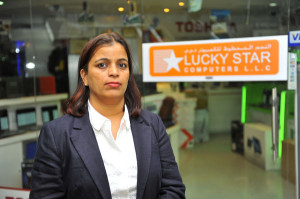 Forging long-term relationships with customers and partners, Lucky Star Computers is continuing to thrive even in turbulent market conditions. 
The rapid evolution in the ICT industry is forcing resellers to rethink their roles and functions. In this new age, resellers have to evolve and differentiate to stay in the business in a diversifying market. The bottom line to this evolution is to become trust advisers and technology consultants to their customers.
A case in point is the Dubai-based Lucky Star Computers, which has grown into an Dh62 million company from its humble origins. The company was founded in 1998 by K.U. Shankari, who moved to Dubai in the early 1990s after a brief stint at an Epson Manufacturing unit in India.
Today, Lucky Star boasts of four outlets in Dubai's busy Computer Plaza along with two showrooms in the IT city of Bangalore, India. It represents almost all major PC brands and workstations from HP, and registers 10-13 percent year on year growth in business, even in these tough times.
The plummeting hardware margins coupled with credit crunch has eaten into the bottom line of many resellers in the market. However, Shankari says the biggest challenge for her has been the support from vendor community. "The vendors are focused on power retail and they tend to neglect traditional resellers. They can create bundled offers and help us with marketing promotions and branding activities."
She says resellers such as Lucky Star have an edge over the power retailers on the basis of personalized services. "If you look at power retail, the people on the floor promoting products are not their staff. Meanwhile, we have invested heavily in our staff and training to offer that personal touch. For example, I have six engineers in the company, out of which four are in sales. The professionals will always come to us."
While the ongoing slump in the PC market has made the going tough for many, Shankari says the local consumption is still healthy.  "Yes gone are those days when we used to move 4000 laptops in a month. But the demand from the commercial sector is very healthy and the margins are still healthy. The decline in PC market has had an impact on those who are focused on the consumer sector but 60 percent of my business comes from the SMB sector and 20 from the commercial, which helped me insulate from the volatile market."
The plans going forward? Having tasted success in the mobility business in India, Shankari is now looking out for opportunities to get into the mobility business, possibly by acquiring companies.  "We believe in consistent and organic growth, and providing trustworthy and personalized services to our customers, partners and vendors."
It's a model many new-age resellers can indeed emulate to stay afloat.