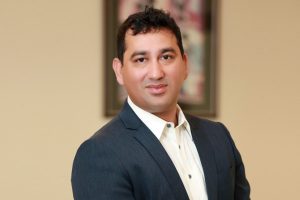 Niranj Sangal, group CEO, OMA Emirates, discusses e-commerce trends and reveals plans for the year.
The regional e-commerce landscape has been bustling with activities all through last year. 2017 saw the purchase of JadoPado and Namshi by the $1 billion e-commerce platform Noon.com and Emaar Malls respectively. Amazon's entry into the region through Souq.com acquisition is expected to transform the regional e-tail segment even further.
UAE-based payment solutions provider OMA Emirates' group CEO Niranj Sangal, says, "Banks are now attracting customers to buy online. Also, most banks have
created their own shopping profiles where customers can log onto their portals and buy products put together by their SMB base. We are seeing that volumes are going higher by 30 percent in online shopping."
One of the drivers of e-commerce sales includes customers now realising that they can easily return a product if they are unhappy with it. Sangal notes that compared to a year ago cash-backs have increased from online purchases.
"The reason behind this is that acquiring banks return the margins as that's the net saving that they have. This margin is taken from the merchant itself. As the margins are lowering, volumes are going higher."
According to Sangal, this is expected to continue. "We have seen this market growing at seven to eight percent with an average of six percent. During the course of 2018, I believe the market will see at least a six percent growth," he adds.
OMA Emirates invests heavily into R&D to provide innovative solutions, says Sangal.
"We invest about 13 percent on an average on R&D. This is a lot higher than what other IT companies do. Our advantage is that as we are present in multiple territories, we have the understanding of different markets and customer base."
Identifying that technology is going to play a vital role in the firm's growth, Sangal aims to unveil new offerings over the course of this year.
"We are moving away from a CAPEX-based model to more of an OPEX-based one," he explains. "We are now applying for retail PSPs and micro PSPs from the central bank, which will allow us to offer cross-border remittances for customers by using any of our networks. Retailers will be able to take advantage of the technology and pay based on service and consumption."
We will also see the firm promoting a closed loop loyalty. "Here, we are trying to create a network of closed loop payment platforms where everybody saves. Merchants will not end up paying their margins to banks. They can use a closed loop network and simultaneously leverage multiple marketplaces using their market presence. We will be deploying around 5000 terminals in this year so that the network is bigger than what we have currently." The company will also be testing the waters with bots during this year. Sangal adds, "It is an interest everybody has but most don't know how it is going to be cost-effective. We are working on bots, which is purely a service base to what we do on our loyalty platform Benefit Beyond, which is equipped with a payment gateway."
The bot will keep a track on what the customer buys and act as a personal assistant with reminders to pay utility bills and so on. Customers can name the bot and will have to pay only for the service.
"We are running a pilot at the moment and hope to go live this year. Google is also working on and investing significantly on bots." he says. "Our message to the market and customers is to believe in technology. Many of us have the advantage of advance technologies at our disposal, however only a small percentage utilises it thoroughly."