CNME Editor Mark Forker secured an exclusive interview with Alakh Verma, CEO of Centriqe, to find out how the IPA and AI solutions provider is driving new business productivity for retailers – and highlighted how its ProfitEdge solutions is empowering its customers to maximise their revenue streams.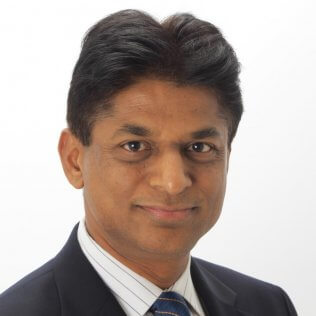 Alakh Verma has enjoyed a decorated and distinguished during his three decades in the IT industry – and developed a reputation as being a prominent thought-leader during his time at technology behemoths Microsoft and Oracle.
However, Verma has now been tasked with the responsibility of driving growth for Centriqe, a boutique solutions provider that is helping businesses within industry verticals such as retail and hospitality to completely transform their operations by processing and managing their data in a more intelligent way.
Centriqe, which is a Silicon-Valley headquartered company has enjoyed phenomenal success in the United States, but it is looking to expand their footprint in the Middle East & Africa, and CNME Editor Mark Forker spoke to Verma during his visit to the UAE for the region's flagship IT and technology conference GITEX Global.
In a compelling interview, Verma explained more about the company and the role it is playing in terms of enabling industry verticals severely impacted by the global pandemic to do more with their data.
"We are focused on AI, IPA and blockchain based solutions that equips business leaders from the retail, and hospitality sectors to have the descriptive, predictive and intelligence tools they need to be able to make better informed decisions in their day-to-day operations. We know that as a direct consequence of the COVID-19 pandemic, many businesses within these sectors were hit hard, and as a result we have witnessed an economic downturn in industry verticals. We're helping these sectors increase their gross operating profitability in real-time", said Verma.
Verma conceded that the nature of data is changing all the time – and stressed that due to volatility of data being generated it was critical for businesses to have a predictive model to help them decipher the data to help them better understand their customer.
"We are giving them not only greater visibility on their data but also the ability to process the data properly with a predictive model. Data is changing, traditionally it was transactional, but now it is conversational, and all this data needs to be captured properly to give businesses meaningful insights on what their customers patterns and behaviours are – and how they can take action to yield the benefits for their business", said Verma.
Verma also highlighted how our expectations as consumers has been enhanced by the advent of technology and that businesses need their data to be processed in 'real-time'.
"Data needs to be unified, and we can process it in real-time on a cloud platform. Businesses want real-time intelligence instantly, not after a week. We process data on open-cloud infrastructure such as Oracle, Amazon, Azure or Google Cloud and we then integrate data coming in from various data sources such as point of sales systems, so we capture the data and process it in real-time which essentially provides intelligence. We give our customers predictive guidance so they can take corrective action with their day-to-day decision-making", said Verma.
Profit Edge is a framework that has been designed for gross operating profitability and runs on Oracle cloud natively. It is also based on open architecture and a microservices based containerised app, so when you build containerised microservices it can easily be deployed on any other cloud architecture and is compatible and easily transferable.
"We just launched Profit Edge in the Middle East during GITEX Global, and it has two key components. The first is what we call the revenue maximiser, which essentially explores how we can maximise your revenue streams that are coming in from various channels. We are addressing omni-channel revenue streams, the footfall in many physical stores has reduced, so we need to transform their e-commerce infrastructure to allow its customers to engage with their products and services. Once they engage with the retailers website they know the patterns and behaviours of their customers, which can ultimately empower their decision-making", said Verma.
The second component of ProfitEdge and what is unique about the solution is its cost optimisation capabilities.
"We are addressing the cost architecture and cost structure very effectively. We know what is required to deliver these types of services and the objective is to do more with less by automating a lot of the processes. We are bringing IPA and conversational chatbots to help businesses interact and execute the order of their customers. It is a smart intelligent system that is working on behalf of the businesses that are deploying the solution and integrating it into their operations", said Verma.
In terms of his expectations for growth and investment in the Middle East & Africa, Verma is confident that they can replicate the success they enjoyed in the United States.
"We are bringing the best practices and models that are being applied in the US to the Middle East marketplace. Global brands that are coming to the Middle East and Africa are showing a lot of interest in what we are bringing to the table, whilst we are also generating huge interest from our strategic partners such as Intertec and Almoayyed Computers in Bahrain, who have expressed an interest in investing with us to expand the Centriqe footprint across the region", said Verma.
Verma said that companies believe that Centriqe is a boutique solution, which can help grow their businesses through system integration that provides them with an end-to-end solution for different lines of their business.
"We are talking to a lot of major companies in the Middle East, who see value in our solutions and have expressed an appetite to not only integrate the solution with Centriqe but to also invest to in an effort to increase their monetisation", said Verma.
When asked what he believes distinguishes Centriqe from its market rivals, Verma cited its 'best-in-class' services.
"Centriqe is very nimble and agile and that is differentiates us from others in the market according to the stakeholders and customers who are deploying our solution. We have integrated our entire platform with the best-in-class and that is driving huge value to customers that are using our solutions to transform the way to run their businesses", said Verma.