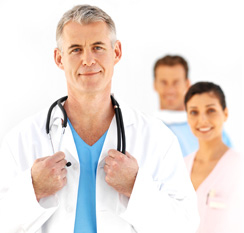 EMC and IDC have today issued research on the future of healthcare provision in EMEA which indicates that hospitals will need to look beyond their borders to deliver improved and cost effective patient care, in an environment where long term chronic illness is on the increase.
 The study is based on interviews with 188 hospital IT and non-IT executives from across Western Europe, the Middle East and Africa as well as with 12 national and regional government executives in charge of eHealth programs.
 The white paper 'Transforming Health: Enabling Integrated Care' also reveals that structured data and unstructured document management capabilities will be essential to meet this challenge.
 The paper suggests that a new healthcare system – where diverse and geographically dispersed healthcare providers collaborate to treat patients – is much more suitable for the treatment of long-term illnesses than the current hospital-centric system.
"The region is bearing witness to a transformation in healthcare services driven by an increased demand for world class outpatient and inpatient care while healthcare practitioners continue to find ways to offer much faster, more efficient medical services," Mahmoud Mounir, Director Information Intelligence Group (IIG), Turkey, Emerging Africa, and Middle East, EMC, said.
"Traditionally marred by distributed storage and information technology infrastructure, the healthcare industry is now turning to more advanced technologies that enable fast and secure means to share patient information without adding complexity to the existing storage infrastructure, adding costs or managerial challenges. The future of the healthcare industry depends on its ability to effectively manage, store, secure and share the right information, at the right time to truly provide excellent diagnostic care."
The research revealed that 51% of hospital executives expect to see their organisation's total IT budget increase in 2014, while only 7.5% in WE and 9% in MEA expect to see it decrease.
The IT organisation's contribution to business goals is rated as more important than reducing operational costs and procurement efficiency.
Patient care and satisfaction enhancement top priority for hospitals in EMEA, and integrated and secure access to data and applications ranked as the most important hospital IT priority, above lowering the cost of IT.
According to the IDC-EMC study, an integrated care delivery model can increase patient safety and help control costs for healthcare providers across the region.
Importantly, the research has revealed that IT – and especially document lifecycle management capabilities – will play a key role in this transformation, with many healthcare providers in the region already looking to invest in key technologies.
46% of 2014 IT budget allocation in EMEA – 54% in WE and 39% in MEA – is set aside for maintenance of systems.
Only 18.5% – 19% in WE and 18% in ME – is set aside for enhancements or upgrades and 19% to innovate: 12% in WE and 23% in MEA.