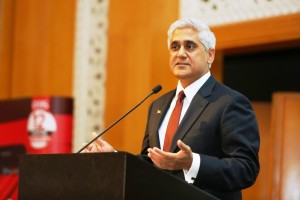 EMS has launched its new range of 'be' smartphones in five different models.
Marketed as the UAE's 'very own' smartphone, the range comprises three main categories, the Elite range – which is also the flagship phone – the Social range, and the United range.
Running on Android 4.2 Jellybean, the Elite 2 smartphone sports a 5.0" qHD screen powered by a 1.3 GHz Quad core processor, and offers an 8.0MP + 2.0MP dual camera.
At the other end of the price scale sits the United 2, which has a 1.0 GHz Dual Core processor and an optimal sized 3.5" HVGA Screen, running the Android 4.2 Jellybean.
Babar Khan, CEO, EMS, said, "We are very proud to be a UAE-based company to launch smartphones. "be" as a smartphone brand has a vision of being competitive as well as extremely affordable and it offers products with state-of-the-art features and a premium finish. The smartphones are backed by a strong after-sales-support-service in launched countries.
"In this price segment the finish and quality of the product are excellent, as well as the technical support that we offer. We've worked tremendously hard to source the best possible components that we could."
BlackBerry Messenger and AVG Anti-Virus are pre-installed on the phones, which are priced between 350-700 AED.