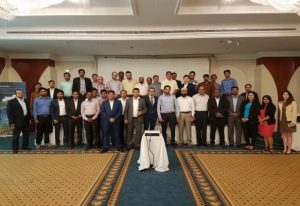 EnGenius Networks, a provider of high-performance, versatile networking and telecommunications for small and medium businesses welcomed its channel partners to an enablement day on 3rd May at Holiday Inn, Dubai.
The event introduced the company's latest addition of 11ac access points with a new platform called the EnTurbo series. The new additions include seven enterprise-class 11ac wave 2 indoor, outdoor and tri-band access points. All the EnTurbo products include dual-band MU-MIMO features which add state-of-the-art speed and capabilities to the industry's most comprehensive portfolio of 11ac wireless solutions.
The workshop aimed to gather key people from the networking industry including resellers, distributors and system integrators and covered a wide array of topics such as regional project implementations, the company's product map of 2017, and hands-on training on a number of products. The workshop also included a live demonstration of the company, Neutron Switches.
Van Hsiao, General Manager, EnGenius Networks, said, "The introduction of our new EnTurbo Series to the UAE market will certainly benefit local SMBs by making this equipment which is very cost-effective, accessible to a wider group of people. We also hope this is the start of greater adoption of broadband and wireless technologies into the sector."