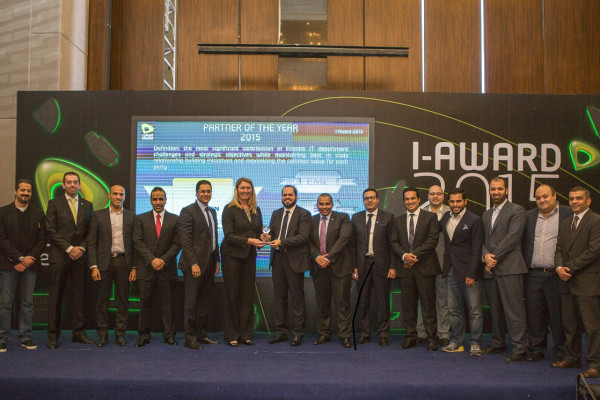 Ericsson has recently received the "IT Partner of The Year" award at the Etisalat Misr I-Awards 2015, which was held in Dusit Thani Hotel, in New Cairo. The award was received by Helene Henriksson, Head of Ericsson Egypt.
The event was organised by Etisalat IT Vendor Management Office where all Etisalat IT partners were invited to share Etisalat IT strategy for 2016 and to recognise all partners' efforts during 2015
This was the second annual awards ceremony organised by the Etisalat Misr IT Department gathering their different IT vendors such as IBM, TERADATA , EMC, HP , Oracle, Accenture, Microsoft, Huawei and others.
"We aim to offer superlative services to our customers in Egypt, and to achieve this we rely on our vendors. We continue to organise this event annually to recognise our trusted partners. We would like to congratulate Ericsson for winning 'IT Partner of the Year' for the second year," said Khalid AlMansouri, Chief Information Technology Officer, Etisalat Misr.
Khalid AlKaf, IT Infrastructure and Operations Director at Etisalat Misr, said, "Our partnership with Ericsson has showed great value add when it comes to offering our customers flexible and convergent offers where they can enjoy being in control of their data packages whether it is for fixed or Mobile Broadband."
"At Ericsson, we are committed to paving the way for life in the Networked Society, which is why we are committed to offering the best services and solutions for our customers. Over the course of our successful partnership with Etisalat, we have introduced first of its kind technologies in the region, and we look forward to working with them for many years to come," said Helene Henriksson, Head of Ericsson Egypt. "We were thrilled with this recognition for the second consecutive year."