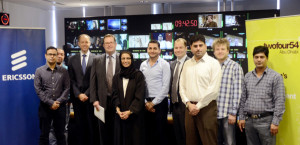 Ericsson has strengthened its partnership with twofour54, the commercial arm of the Abu Dhabi Media Zone Authority, through the acquisition of its current playout business, initially providing playout services for nine different channels.
The agreement, which comes as part of a long-term partnership, recognises the role of the private sector in supporting twofour54 in building Abu Dhabi's media industry ecosystem.
As part of this partnership, Ericsson will establish a media hub in Abu Dhabi to serve clients across the Middle East region.
The hub will provide playout services and act as the local base to eventually leverage Ericsson's portfolio of services in content management, over-the-top (OTT), content discovery, metadata, creative and access services.
"twofour54 is committed to the growth of the media industry across the MENA region," Noura Al Kaabi, CEO, twofour54, said. "This long-term partnership with Ericsson is another step towards achieving our goal of being the region's leading developer of a sustainable, private sector-led media industry."
Rafiah Ibrahim, President Ericsson Region Middle East and East Africa, said, "The Networked Society is happening across the Middle East, transforming industries.  Today we see the TV industry in the region witnessing this transformation with strong local and international broadcaster base. Our role is to help those broadcasters seize the opportunities of this transformation. The partnership with twofour54 is an important milestone in our ambition to provide industry-leading media services in this dynamic region."