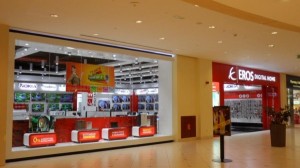 Eros Group recently opened its 33rd retail store, which is located in Dubai's Wafi Mall.
The new store opening, Eros claimed, makes the group the widest retail network in the UAE, and it has plans to carry on expanding.
"It's a pleasure to announce the opening of our 33rd store in the prestigious Wafi Mall," said Niranjan Gidwani, Deputy CEO, Eros Group.
"This marks a stronger presence in [the] UAE and provides us with a springboard to establish ourselves as a valued retailer in consumer electronics. Our aim is to continue to expand and reach our shoppers and build our portfolio of brands. 2013 looks very promising for us."
Eros is the sole distributor for brands such as Samsung, Hitachi, Candy, TCL and BenQ. Its new store is located on level one of Wafi Mall, opposite Marks & Spencer.
Commenting on the new store, Richard Billington, Group Property and Marketing Director, Wafi, said, "We are honoured to have Eros Group, renowned distributors of iconic consumer electronics, at Wafi Mall.
"The new Eros store will cater to the needs of our regular customers by offering added conveniences that has always been high on our agenda. This joint initiative is certain to be a huge hit with out loyal customer base, whilst also attracting new clientele who want to avail a wide range of consumer electronics."