Etisalat has teamed up with Ericsson  and Intel to launch a 5G innovation competition targeting engineering students from renowned universities in UAE.
The competition will run for eight weeks with participation from student teams from different levels of study invited to submit projects on the best 5G use cases focusing on technologies like artificial intelligence in the UAE.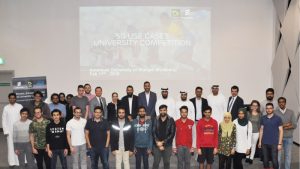 Saeed Alzarouni, Senior Vice President, Mobile Network, Etisalat, said: "We are pleased to collaborate with Ericsson and Intel in this 5G University competition, which promotes industry and academic community efforts to foster and strengthen future technological advancements.  It could not have come at a better time, in the wake of the celebration of UAE Innovation Month in February and Etisalat's successful pre-commercial launch of 5G ultra mobile broadband at certain locations in Dubai and Abu Dhabi last year.
"We are thrilled to support and significantly contribute to the UAE's national innovation strategy. In addition to the 5G and smart technologies, Etisalat is committed to continuing our digital transformation journey by further developing new capabilities including artificial intelligence, robotics, cloud computing, network virtualisation, automation and Internet of Things."
Petter Järtby, Head of Global Customer Unit Etisalat at Ericsson, said: "At Ericsson, we are proud to be forging the way for 5G as we think that innovation and technological advancement is vital for positive progression. We believe that by running this competition we will see not only great ideas but be able to educate young people on how 5G will be used to make life better for everyone. We are excited to see what use cases the students come up with and  hope that this will inspire them to become involved in the innovative world of 5G in the future."
In December last year, Etisalat announced the launch of the region's first 5G broadband experience. A pre-commercial 5G network was deployed in certain locations within UAE including Abu Dhabi and Dubai. The UAE's Telecommunications Regulatory Authority (TRA) had given operators the go-ahead to provide 5G services, enabling them to begin building network infrastructure. The shift towards 5G will enable the UAE to achieve its global competitiveness targets, particularly its stated goal of achieving the world's first position in smart government services and one of the top 10 in IT infrastructure readiness.