United Arab Emirates University (UAEU) has joined the Etisalat Digital 'Internet of Things (IoT) partner programme' that will see them collaborate in the digital solutions arena and help strengthen Etisalat's position in the IoT space in the region.
The 'IoT partner programme' aims at collaborating with partners from various verticals to build solutions on Etisalat IoT platforms. Partners are joining the programme from across the world bringing their experience to enable Etisalat to deliver the most innovative IoT solutions. One of the main objectives of the programme is to work closely with UAE academic institutions to bring market demand and professional platforms to students helping them quickly join the job market in the future.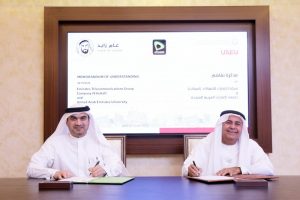 Commenting on the partnership, Abdulla Al Ahmed, Senior Vice President, Government Services, Etisalat, said: "Etisalat is delighted to partner with UAEU to bring our hands-on IoT experience and this program would help us tap into a large resource of academic caliber to deliver better solutions to the market. We are working closely with our customers by enabling them with these futuristic solutions to help them move into the digital future."
Etisalat has also established an ecosystem of futuristic technologies such as the IoT that will help manage all smart services and applications, and are integral to create smart cities on the 5G network in the country. The 'IoT partner program' will help UAEU access IoT platforms, training programs, studying materials and vertical knowledge. Etisalat Digital currently runs a data center that hosts IoT applications and services to meet the increasing need of the IoT market in the region. "
Professor Mohamed Albaili, UAEU Vice Chancellor stressed the significance of the UAEU partnership with the Etisalat Digital 'IoT partner programme', he said: "This is part of the framework of effective partnerships between UAEU and Etisalat to exchange experiences and skills through refining and employing the skills of students and researchers with knowledge, creativity and innovation. The university is continuously working on developing its academic programs to ensure excellent learning outcomes that are in line with the sustainable knowledge economy and the needs of the future labor market."
The fourth industrial revolution is considered one of its driving forces as IoT is one of its four key factors in addition to artificial intelligence, robotics and 3D printing This is to ensure the formation of a distinguished and advanced generation which studies the future in accordance with the directives of our wise government, which provided all the possibilities to achieve revitaliation and progress."
UAEU is keen to offer its expertise in various fields to the partners, apply creative ideas and to enhance the impact of knowledge in the development and refining of ideas, providing solutions and enhancing digital technologies and innovations. These have become integral elements in the economic development and in keeping pace with the rapid advancements, societies are facing nowadays.