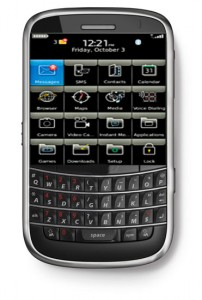 Etisalat today announced the launch of the new BlackBerry Bold 9900 smartphone in the UAE. Etisalat is in line with the earliest worldwide launch date, the company said.
According to Etisalat, the device is attractively priced at AED 2,599, and offered at 50% discount on a 12-month contract basis with Etisalat's two new BlackBerry packages.
It is available at all Etisalat's Service Centres and Outlets across the UAE and at any of Etisalat's key retailers, including Aptec, Jumbo, Jacky's Lulu, E-City, Virgin and Plug-Ins, the company said.
The BlackBerry Bold 9900 is the thinnest BlackBerry smartphone yet at only 10.5mm, and the first to offer the perfect union of a high performance keyboard and touch display integrated within the iconic BlackBerry Bold design, according to RIM.
Distinguished by its beautiful design, amazingly effective keyboard and brilliant touch display, the BlackBerry Bold 9900 is crafted with premium materials including a brushed stainless steel frame that puts the finishing touch on a truly outstanding smartphone, RIM added.
Matthew Willsher, CMO at Etisalat, said, "We've established a strong reputation in the marketplace for bringing the latest BlackBerry products to our customers in the UAE, at outstanding prices. In partnership with RIM, we are proud to be introducing yet another fantastic BlackBerry device that our customers can enjoy on Etisalat's first-class nation-wide network and international roaming partners in more than 190 countries. With its iconic Bold form factor, touch screen and powerful new operating system, we are certain that this new smartphone will appeal to our business and consumer segments alike."
Customers can subscribe to one of the two new and affordable BlackBerry Packages.  BlackBerry 'Basic' for AED 99 per month provides customers with 200MB of BlackBerry usage with access to a single email account and Internet speed of up to 7.2 Mbps.
According to Etisalat, BlackBerry 'Premium' for AED 149 per month provides customers with 1GB of BlackBerry usage and 5MB of roaming usage per month. With Internet access speed of 14.4 Mbps, this package supports streaming web sites such as You Tube. The BlackBerry 'Premium' package also allows users to configure up to 10 email accounts.  Customers subscribed to the Blackberry Packages will enjoy accessing their Facebook, Twitter and other social networking apps, download apps, content, games from App World, chat with BBM and other Instant Messaging applications.
Postpaid customers can receive the new BlackBerry Bold 9900 at half price for AED 1,299, on a 12-month contract basis with any one of the two new packages, Etisalat added. Alternatively, Etisalat's MyPlan and MyBusiness Plan customers can purchase the device for as low as AED 299 with a 12-month contract with the MyPlan 'Ultra' package, the company said.
Customers can subscribe to the new BlackBerry 'Basic' or 'Premium' packages by sending  an SMS – 'B99' to 1010 for BlackBerry Basic, and 'B149' to 1010 for BlackBerry Premium. Alternatively, they can call 800 77 666 or visit any of Etisalat's Business Centers and Outlets, representatives pointed out.
Etisalat, through its smartphone business partner EMS, is also offering a BlackBerry device trade-up allowing customers to upgrade to the brand new BlackBerry Bold 9900. Customers can trade-in their old BlackBerry smartphones at Etisalat's Mirdiff City Center Outlet and Deira Business Center in Dubai, and  Marina Mall Outlet in Abu Dhabi. In exchange they will receive cash payment against the new BlackBerry Bold 9900.