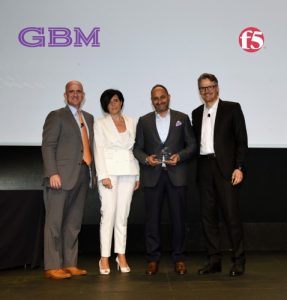 Gulf Business Machines (GBM), the region's provider of IT solutions, has been announced as the 'Partner of the Year in Europe, Middle East, and Africa' at the annual F5 Agility 2017 conference in Barcelona, Spain. The award seeks to recognise a partner of F5 Networks, the global player in application delivery networking, which has demonstrated exemplary performance in business growth, customer focus, and technical excellence.
Michael Schoenrock, director, Channel Sales EMEA, F5 Networks, said "The past year has been full of success across EMEA and our partners been at the heart of it all.
"Through agility and innovation, GBM has brought F5's key solutions to life to secure new projects and build receptivity for our evolving portfolio, particularly as we intensify our focus on security and multi-cloud deployments. This award is well deserved, and I would like to congratulate the team for continually redefining what it means to make apps go faster, smarter, and safer."
GBM has been previously recognised by F5 for its business growth, innovation, and expertise. Most recently, they were named the Middle East Partner of the year and Security Partner of the year at the F5 Middle East Forum in Dubai.
Hani Nofal, vice president, Intelligent Network Solutions, Security and Mobility, GBM, said, "We are beyond honoured to have received an accolade of this scale from F5, particularly considering the aggressive competition we faced from large European systems integrators. Awards such as these further cement GBM's commitment to partnering with internationally renowned technology brands with the goal of bringing the most cutting edge digital solutions to the GCC market."