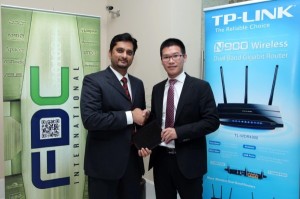 To strengthen its position in the Middle East, FDC, the value added distributor signed a distribution agreement with TP-Link, a China based provider of SOHO and SMB Networking products.
As per the agreement, FDC International has been given the Middle-East distribution rights for TP-LINK ME's networking portfolio.
"TP-Link ME believes that the Middle East market is one of the fastest growing regions worldwide for the networking industry. Our cooperation with FDC International is a step forward for us to ensure that quality products with the best features reach end-users," said Denny Liang, General Manager, TP-Link ME.
Liang further added that the deal will play a pivotal part in cementing the relationship with FDC International and will ensure the company continues to offer a variety of products to the regional channel.
FDC International stated that the addition of TP-Link ME to its vendor list further strengthens the diversification and growth strategy it has embarked on.
Ram Praveen, Business Unit Manager of ProValue Division, FDC International said, "By signing the agreement with TP-Link ME, FDC International is entering the networking segment, which is growing at a rapid pace. We will look forward to further strengthen the brand as one of the market leaders in the SMB segment, which is the mainstay for TP-Link in the business segment. I am confident that our strong presence in Middle East market will benefit the brand's growth along with the dedicated focus we give all brands that we work with. We would like to thank TP-Link ME's management for trusting us with their brand."