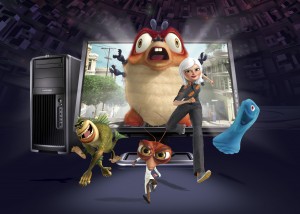 Dreamworks Animation's world-first full integration of HP Networking has allowed it to go from producing one movie a year to "an unprecedented" five movies every two years, says Derek Chan, head of global technology operations at the animation studio.
Following years of working with HP on networking products and services like servers, switches and storage, the studio decided last year to unify its entire networking infrastructure with HP.
As well as now releasing more movies than any other animation studio, the move has also allowed the DreamWorks to have eight to 10 films in production concurrently.
Chan shared DreamWorks' story at Interop 2012 in Las Vegas yesterday.
"HP provided us with an infrastructure that allows us to basically do any project at any site. We have a site in India and two in the U.S. – and to be able to have all those resources and the ability to work on any of our projects at any time is a huge benefit," Chan said.
"What it meant for us was that when we built up our infrastructure, all the way down to the network switches, servers, storage and work stations were all the same technology. We have a common infrastructure across all of those facilities so that we can reach a scale that other studios have problems doing because they're not forcing the same unification of technology across that," he added.
Chan said the competitive advantage DreamWorks has gained comes from its new ability to seamlessly work around its three sites and the removal of its staff's previous burden of having to work across several technologies.
"To us that was a key choice to be a common infrastructure so that we can work on any of our movies at any one time, so that they can move around the sites without physically having to do so. Other studios just haven't made that choice of unifying their technology platform yet," Chan said.
"If you don't do that and you let each studio do something different, then it's harder for the administrative staff to work. It's also harder for the artistic staff because they're working on different movies using different technologies," he added.
Bethany Mayer, GM of HP Networking, said that a key factor of its relationship with DreamWorks has been its willingness to make product choices and changes at the request of the studio.
"For example, we have made changes to our work stations, our servers and even our networking products at DreamWorks' request. We listen to DreamWorks – especially because they require so much and stress so much outer limits on what you can do to an infrastructure," Mayer said.
"That helps us to then put in the right functionality for them and then we pretty much know it's going to work well for the normal uses of the network for the infrastructure as well," she added.
CNME sub-editor Ben Rossi is reporting live from Interop 2012 in Las Vegas this week. You can follow live tweets at @computernewsme and #interop.