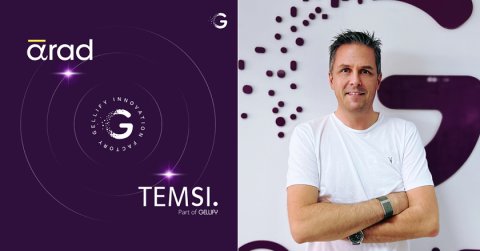 GELLIFY Group has made significant strides in reinforcing its position as a primary hub for digital transformation on an international scale.  Following its announcement of integrating ARAD and TEMSI – two renowned Italian entities known for digital project development and strategic business consulting – into its capital, GELLIFY Middle East is set to leverage this collaboration in further enhancing the region's digital landscape.
GELLIFY's expansion has been notable. During the first half of 2023, the company, with active operations in Italy, Spain, and the UAE, registered a 14 million euro growth in revenue, with an EBTIDA exceeding 10%. The group is projecting over 15% revenue growth compared to 2022 figures. This commitment to progression is evident with the firm's recent initiation of a Stock Option plan, aiming to provide options to 226 of the company's employees, marking a strategic decision to empower its workforce.
Francesco Ferri, CEO of GELLIFY Group, said, "The inclusion of ARAD and TEMSI into the GELLIFY ecosystem is an exciting move. These industrial partnerships will significantly expand our service portfolio, marking an important step in our mission to offer even more comprehensive solutions to our clients. The skills and expertise from ARAD, in particular, will solidify our presence in luxury, fashion, and design sectors. With their input, we can tailor our digital transformation services for these industries, positioning GELLIFY as a leader in technological innovation in these vibrant and creative markets".
Enrique Ortega, CEO at GELLIFY Middle East, commented, "The integration with ARAD and TEMSI amplifies our commitment to reshaping the digital landscapes of the Middle East. With the unveiling of our latest initiative 'Luxury Tech CX Observatory', we're setting new standards for the region's luxury sector. The Middle East, especially Dubai, is at the epicentre of technological and business innovation. Integrating ARAD and TEMSI not only fortifies GELLIFY Middle East's capabilities but also steers the region towards its next phase of technological and strategic advancement".
ARAD Digital, with an impressive track record of assisting businesses in their digital and omnichannel strategies, has collaborated with over 90 firms in the last five years. On the other hand, TEMSI, with 45 years of experience, has an extensive client list spanning multiple sectors including fashion, dining, banking, and pharmaceuticals.
As GELLIFY Middle East continues its upward trajectory, these partnerships represent a testament to its commitment to innovation, growth, and delivering unparalleled digital solutions in the Middle East and beyond.