What is the main theme of your presence at GITEX this year?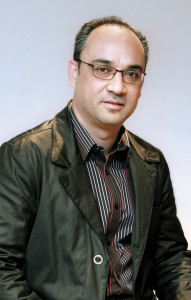 We have throughout the years positioned ourselves as an innovative provider of digital security software and services, with a vision for the "digital future" and this theme will be illustrated through products and solutions demonstrations at our booth, Hall 6 – A7-35.
Every day, banks, mobile operators, corporations and governments across the globe trust us to help them provide secure, convenient services for their users. Each time their customers, employees and citizens want to transact, connect or identify themselves, our solutions are there to make it safer and easier. Whether they're communicating, banking, doing business online, using eGovernment or eHealth services, transferring money, accessing cloud services, verifying identities and protecting privacy, or benefitting from machine-to-machine (M2M) communications, people all over the world rely on Gemalto every day and we aim to achieve our vision of helping people to trust one another in an increasingly connected digital world.
 Are you releasing/launching anything new at GITEX 2013? If so, what?
 We always see Gitex as a fantastic opportunity to launch new products and solutions that help our local customers and end users make the most of the digital world: communicating by mobile, banking online in a secure way, protecting their IT network, accessing securely government web services, transferring money through their mobile, commuting to work using contactless ticketing technology and so on. This year, Gemalto will be launching in the Middle East its 'POPWings' NFC powered digital business card solution. POPWing enables people to enjoy even more the digital revolution in a secure and convenient way. Not only POPWing NFC connected  eBusiness card solution will enable you to increase your network and contact details on the spot with a simple tap of the mobile phone, but  it will also remind you of when and where you met,  even taking follow-up actions. It is indeed a fun & easy way to connect and stay in touch with people you meet. The POP mobile application enables you to manage thousands of enhanced business cards to stay in touch and it enables a Smartphone to communicate with any other NFC-endowed device and exchange data such as contacts, URL, documents, pictures and music.
How is your company presenting itself at GITEX this year to differentiate it from competitors?
At Gemalto, we differentiate ourselves through continuous innovation, which is the comber stone of our success and at the heart of our strategy. Last year we invested €177 million in our 13 R&D centers worldwide to design the digital security solutions of today and tomorrow's world. With a portfolio of over 4300 patents and patents applications, our 1700 engineers and cryptography experts lead the way in the invention, design and development of new products, solutions and applications and we continue to innovate with new forms and architectures and expand our software and services portfolio to provide our customers with end-to-end global secure solutions. Unlike other companies acting in the security sector, we highlight the positive side of security. We think it's a means to an end; we do security so people have the freedom to enjoy their digital lifestyle.
What are the key trends influencing your approach to GITEX 2013 and the offerings you are pushing?
We have entered the digital era and as the world mobilizes and digitizes, people want to enjoy the benefits and the convenience brought by the digital world but without compromising on security. Our approach is deeply based on those two pillars: security and convenience and our role and purpose is to enable our clients to offer trusted and convenient digital services to their end users. More than 1 billion people worldwide are using our solutions and devices on a daily basis, be it to communicate, transact, cross the border, shop online, securely access their corporate network, etc …
How have you seen the Middle East respond to those trends in question, and how did you think that will change over the next year?
The ICT market in Middle East is growing fast, the trend goes toward dematerialization and digitalization of documents to improve efficiency in all sectors and reduce cost. We are more than ever entering the digital era and the need to protect data, secure digital access, online banking, mobile transactions and sign securely online documents are more than ever a priority to embrace the digital revolution. There is a strong demand for data protection coming from enterprises in the region. As for governments' initiatives in the Gulf, they follow a clear digital vision which aims at using the latest technologies to build a state of the art, robust, future proof IT infrastructure to offer the most convenient and enhanced public services to citizens.
How do you think GITEX 2013 will be different to previous editions?
Reaching 140 000 visitors and attracting more than 3500 exhibitors and the show is years on growing. In the 2013 edition, the GSM Association, which represents over 800 mobile operators worldwide, is joining forces with a special section at Gitex. This clearly shows Gitex is entering a new chapter, becoming not only a Middle Eastern show but turning into a global key IT event.
What are the key offerings you will be presenting at GITEX – sum up their key and unique features.
This year our offering will be divided into 4 main topics to fit market trends. On one side we will be showcasing solutions related to The Internet of Things and Machine to Machine communication technology, illustrated with a special demonstration on our eCall solution. Embedded in cars, the connected device automatically makes an emergency call to the nearest emergency services in the event of a car crash. This will highlight how the latest technologies and how by making devices connect to each others can help save lives and revolutionize our daily life. The second main topic will be covering mobile payment with our latest mobile wallet solution enabling people to pay in a contactless mode with their phone in shops, for a convenient, fast and secure payment experience. The latest banking services and solutions will also be highlighted with a demonstration of our All About Me solution, enabling banking card holders to choose the visual they want on their banking card. At last, but not least, we will be presenting our range of mobile security solutions enabling to sign digital documents through legally bending mobile signature, secure online banking transactions.
How important is GITEX as a platform and event to your organisation?
Securing the digital world has become a top priority for most businesses in the region and Gitex, the biggest IT and new technologies show in Middle East, has naturally become a not-to-be-missed flagship event for Gemalto.  It addresses, all under the same roof, all the key topics Gemalto provides solutions for: government programs, cloud computing, telecommunication, network security, digital strategy, mobile payment, etc…
What is the top reason you invest in GITEX — do you see a healthy return on your investment, or is it more about presence/visibility?
Acting as a hub and attracting visitors from the entire region, the Gitex show doesn't only allow us to meet with existing and potential customers, but also to increase the general public awareness on what we do. As we provide billions of secure devices worldwide ranging from banking smart cards, solutions and services, SIM cards and embedded mobile applications and solutions (mobile payment, LTE, M2M, Mobile Marketing, etc…), secure electronic identity documents (eID cards, ePassport etc…), each one of us uses at least one Gemalto solution without even knowing it. Gitex gives us a chance to reach our solution's end users and show them the latest secure technologies which will be tomorrow in their pocket.
What are your company's main recent achievements in the Middle East market?
Gemalto has a strong presence in Middle East and we have to date supported over 30 Middle Eastern banks in their migration from magnetic stripe to highly secure smart chip banking cards. We also work closely with government bodies in the region and are providing eID cards to all GCC countries. In parallel, we deliver secure solutions to 75% of Mobile Operators in the region.
As part of the latest success stories, Gemalto provided Du UAE telecom operator with Machine Identification Module (MIM), for the first deployment of cutting-edge machine-to-machine (M2M) communication technology in the UAE market. Designed to make business processes more efficient and cost-effective, MIM cards are integrated in all major M2M initiatives by du for a variety of end-markets, from oil and gas, retail, healthcare, utilities, to power management, as well as the transportation sector and will contribute to vast operational improvements in the region's industrial sectors. The solution allows for remote machines to directly communicate with central management systems and enable increased productivity.
Gemalto was also the technology supplier of Emirates National Bank of Dubai (eNBD) with the Go4it co-branded Emirates NBD and RTA card scheme, a first of its kind in Middle East. Gemalto supplied Emirates NBD with a multi-application smart card, combining an EMV secure payment with a contactless Nol transport application. eNBD customers  can now enjoy the benefits and convenience of two cards in one, utilizing both the payments functions of their debit/credit cards, as well as the Nol smart card which features innovative contactless payment technology.
Al Rajhi Bank, Saudi's leading financial institution, also chose Gemalto to embark on the world's largest rollout of any smart banking card instant issuance solution. The bank's branches can now securely issue EMV smart banking cards to new and existing customers with just one click.
Selected by Oman's  Information Technology Authority (ITA) as prime contractor, we deployed this year a full end to end security platform and mobile signature solution to secure the country's eGovernment services. The full solution encompasses strong authentication and digital signature using the eID card, as well as mobile authentication using a mobile handset. The solution allows citizens and residents of Oman to securely access eGovernment services, with the authentication method that best suits their lifestyles: either using their eID cards to sign on or their mobile phone.