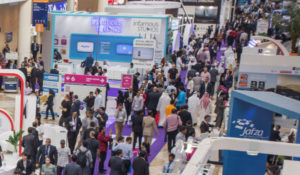 GITEX Technology Week is set to feature new sections at its 2016 outing, including areas dedicated to virtual reality and international startups.
Under the theme 'Reimagining Realities', GITEX Technology Week 2016, from 16th-20th October 2016, will feature showcases, international keynotes and dignitaries from around the globe.
Last year's event saw over 146,000 visitors from 144 countries, and 4,200 sponsors and exhibitors from 130 countries, and nearly 22,000 CXOs from are expected to attend this year's show.
GITEX will open with keynote speeches from Dr. Phyllis Schneck, the chief cybersecurity official at the United States Department of Homeland Security and James Barrese, former PayPal CTO.
Other speakers include Aseem Puri, CMO at Unilever; Ocado CTO Paul Clarke; Dr. Rafael Grossmann, the first doctor to use Google Glass in live surgery and Keith Kaplan, CEO of think tank Tesla Foundation.
"GITEX is at the global nexus of trade and technology innovation, with the UAE government a leader in using technology to transform daily lives and businesses," said Trixie LohMirmand, Senior Vice-President, Exhibitions and Events Management, Dubai World Trade Centre. "GITEX is the single most powerful and influential sourcing platform for tech solutions and innovations in the region."
GITEX is set to introduce its interactive Immersive Tech section, which will feature VR headsets and AR tools used in live surgery amongst other innovations.
The new GITEX Startup Movement, meanwhile, is set to connect over 400 startups from 35 countries, and 1,000 entrepreneurs, venture capitalists, angel investors, government buyers, and mentors.