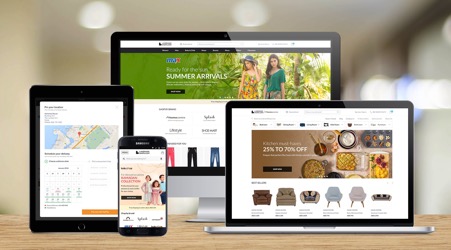 LandmarkShops.com, the flagship E-commerce and Omni-Channel initiative of the Landmark Group, has recently launched a brand new redesigned and re-engineered version of its website.
The site features over 100 structural, design and technological improvements aimed at offering customers a simpler, faster, more useful and more exciting shopping experience, according to the company.
A brand new version of the Android app has been launched for a fresher, faster and more modern experience on-the-go. This new version is based on Google's latest design philosophy – Material design – in line with best-in-class apps like YouTube, Gmail, Evernote, Slack and AirBnB.
Additionally, the online shopping experience for leading home retailer Home Centre has become easier and more convenient, with the launch of Scheduled Deliveries. Home Centre's online shoppers can now choose a preferred date and time for their furniture deliveries. They also have the option to choose faster Express Delivery for an additional AED 250.
Savitar Jagtiani, Business Head – E-commerce, said, "We're thrilled and excited to announce the launch of the best version of LandmarkShops ever! Delivering a great customer experience is easier said than done, and with today's launches featuring a brand new LandmarkShops experience with over 100 improvements, a fresher, faster and more modern Android app along with Scheduled Deliveries for Home Centre, we believe that we continue to walk-the-walk on genuinely making our customers' lives better."