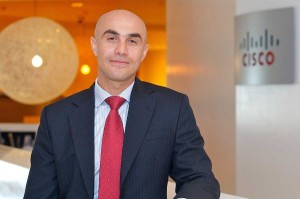 This year, Cisco has adopted the principal theme of 'Where Technology Means Business', where we will discuss current ICT trends such as the Internet of Everything (IoE), cloud and virtualisation, collaboration, bring your own device (BYOD), and security, to showcase how enterprises and governments throughout the region can leverage these trends to drive business success.
2) What are the key offerings you will be presenting at GITEX – sum up their key and unique features.
At the centre of innovations, and fuelling its growth, is Cisco's Intelligent Network, comprising  key technologies that Cisco is investing in and architecting together to solve customers' most important business challenges.  At our stand we have developed demonstration 'zones' that will illustrate the IoE, our collaborative solutions, enterprise networking, data centre, software defined networking and network security. There will also be as designated area for our strategic partners.
3) What is the top reason you invest in GITEX — do you see a healthy return on your investment, or is it more about presence/visibility?
GITEX remains one of the most important events in Cisco's calendar. The event always creates great opportunities for us to stand alongside our peers, network with our existing and new customers and to contribute in a forum that matters by providing an exceptional knowledge platform for the ICT industry to grow in the Middle East. By participating at GITEX each year, Cisco is able to demonstrate the impact of its technologies that play an increasingly important role in improving productivity, reducing costs and helping companies gain competitive advantage.
4) What does your company hope to achieve by appearing at GITEX 2013?
There are phenomenal opportunities expected to be created for businesses and individuals in the Middle East as we enter into the era of the Internet of Everything (IoE), where the Internet has the potential to dramatically improve the lives of everyone on our planet. At Cisco, we believe that the IoE is already bringing together people, process, data and things to make networked connections more relevant and valuable than ever before—turning information into actions that create new capabilities, richer experiences, and unprecedented economic opportunities for businesses, individuals and even countries.
Cisco uses GITEX to connect with key decision makers and help to build relationships across the Middle East. This year we will mainly focus on showcasing how our technology solutions can enhance the services that businesses in the region have to offer. This could be from simple connectivity or virtualised storage solutions to implementing intelligent network architectures that will improve productivity and collaboration. Through IoE, enterprises will be able to capture new value created from technology innovation across a whole gambit of functional business areas.
5) What are your company's main recent achievements in the Middle East market?
Cisco is committed to supporting the Middle East region, as it's a significant contributor to our overall business success. An economy that is built on intelligent technology architecture has the potential to help organisations and individuals be productive and drive innovative collaboration irrespective of where they or their teams happen to be located.
To give healthcare as an example, in many parts of the Middle East patients in both urban and rural settings often have limited access to health care.  Healthcare workers are under similar pressures were more is needed from them in terms of information availability, reliable access and inter-collaboration capabilities within the healthcare facility environment. Cisco's care-at-a-distance technology solutions are now helping to create an environment similar to what people experience when they visit their local doctor or health specialist enabling healthcare professionals to collaborate more easily, regardless of location, thereby improving both the timeliness and the quality of care delivered.
Likewise, holistic transformation can also be applied to the educational system. Technology solutions like the Cisco TelePresence Classroom are transforming the learning environment throughout the Middle East region by providing a means to bring education to remote locations and also connect with colleges, institutions and tutors from around the world.
The importance of public-private partnerships for driving economic growth and prosperity throughout the ME region is also key. Today Cisco is utilising these public-private partnerships across a number of learning based initiatives, to help cultivate ICT start-up and entrepreneurs, which include the Cisco Networking Academy Program and Cisco Entrepreneur Institutes.
Cisco will be located in the Zabeel Hall, stand number Z-B 30.