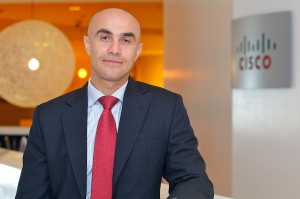 1) What are your company's key products and services?
Cisco is the worldwide leader in networking that transforms how people connect, communicate and collaborate. As an innovator in the communications and information technology industry, Cisco pioneered the development of Internet Protocol (IP) based networking technologies. This tradition continues with the development of routing, switching and other network-based technologies such as application networking services, collaboration, home networking, security, storage area networking, TelePresence, unified communications, video systems and wireless.
Today, Cisco focuses on five key priorities – core routing, switching and services; collaboration; architectures; and video. Through utilising the power of the network, Cisco continues to deliver end-end, innovative solutions to our customers and partners.
2) Which product lines and services will Cisco focus on at GITEX?
We believe the network will continue to grow in importance and could become our customers' most strategic information technology (IT) asset. Given this, our principal theme at this year's event is 'Intelligent Networks Transform Your Business', where we will showcase how organisations can harness the power of intelligent networks to simplify and speed up the deployment of both current and future technologies to drive business transformation. In an increasingly connected world where information dissemination and consumption growing rapidly, we believe that the need for an intelligent and reliable network infrastructure has never been more apparent.
As part of this theme, Cisco will demonstrate its various solutions across a series of demo areas around 'Networked Healthcare'; 'Networked Classroom' and 'Networked Banking and Retail'. Lastly, we will also examine the most current and critical trends and issues facing the Data Center and Virtualisation landscape, while focusing on Collaboration and Borderless Networks via a series of in-depth technology sessions and product demonstrations.
3) What benefits do your products and services bring to regional companies?
Cisco's commitment to this region is underlined by our continued focus on innovating and bringing best-in-class solutions that will deliver the transformation and the results that businesses across the Middle East seek.
As part of our business focus on the network as the platform for all forms of communications and IT, our products and services are designed to help our customers use technology to address their business imperatives and opportunities. Cisco aims to help its customers improve productivity and user experience, reducing costs, gaining a competitive advantage and to help them connect more effectively with their key stakeholders.
We also deliver products and solutions that leverage the network to most effectively address market transitions and customer technology requirements in the areas of virtualisation, cloud, collaboration and video. We believe that integrating multiple network services into and across our products helps our customers reduce their operational complexity, increase their agility and lower their total cost of network ownership. We also provide products and services that allow regional customers to transition their various networks to a single multi-service data, voice, and video network, thereby enabling economies of scale.
In addition to our product offerings, we provide a broad range of service offerings, including technical support services and advanced services that help organisations get the most value from their networks.
4) Why is your company exhibiting at GITEX Technology Week?
Amongst the many important events in our calendar, GITEX Technology Week remains the most significant ICT show of the year in the Middle East and Africa, and is increasingly gaining more recognition globally. GITEX has consistently helped create greater opportunities for businesses on an exceptionally good knowledge platform that has helped the ICT industry grow in the region.
After last year's success at GITEX, Cisco has a bigger and expanded presence at this year's event where we will be focusing our attention on demonstrating technologies that will play an increasingly important role in improving productivity, reducing costs and helping companies gain competitive advantage.
5) What does your company hope to achieve by appearing at GITEX Technology Week?
GITEX Technology Week is an important event to connect with key business decision makers and help build relationships with a global audience.
The event also gives Cisco the opportunity to showcase our latest technology solutions and demonstrate how technology can improve and enhance the services that businesses have to offer – from simple connectivity to an intelligent platform that will dramatically improve productivity and collaboration and help drive productivity, competitiveness and societal change in the region.
6) What are your company's main recent achievements in the Middle East market?
Cisco sees tremendous potential in the Middle East, where we have seen our business momentum continuing in 2012 driven by the deployment of some of the most advanced network environments and higher demand for next-generation technologies. Combined with our brand strength and leadership across multiple product categories, we have had major customer wins, product launches, country/regional focused initiatives and awards across the region.