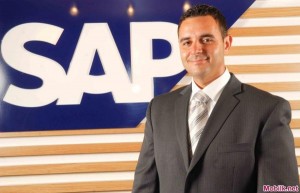 SAP has announced that it will flex its innovation muscles at this year's GITEX Technology Week, emphasising significant global shift towards a more nimble, efficient and unwired enterprise.
The company reports that it will have a prominent presence in the Mobile, Apps and Content World section at GITEX Technology Week 2012 that is scheduled to be held from 14-18 October at the Dubai World Trade Centre. At the event, SAP will showcase its market leadership position in areas such as mobile application and development platforms, mobile device management, mobile messaging, and mobile commerce services, it was reported.
And with information technology research and advisory company Gartner predicting that mobile phones will overtake PCs as the most common web access device by 2013, SAP continues to invest heavily to stay ahead of the competition.
In April 2012, SAP acquired Syclo, a leading provider of enterprise mobile applications and technologies, adding industry-leading expertise in building and selling mobile solutions in industries such as utilities, oil and gas, life sciences and manufacturing.  The move also accelerated the adoption and deployment of new mobile asset management and field service solutions on Sybase Unwired Platform, part of the SAP mobile platform and the company's infrastructure for developing and managing mobile apps.
SAP and its partners currently offer 70 mobile applications to customers and there are more than 200 in the development pipeline, representatives said,
"Mobility central to our innovation agenda and a powerful technology trend that has broad and deep impact across both the enterprise and consumer markets," said Sam Alkharrat, MD, SAP MENA.
"There are tremendous opportunities for companies that can help realise its benefits. We are proud to be at the forefront of the mobile revolution, and our ability to unwire core business processes is set to go from strength to strength in the coming years, particularly in the MENA region. SAP brings the power and simplicity of consumer mobile technology to the business world, helping to make 'anytime, anywhere' access on any device a reality through the widest range of mobile business apps and the most robust mobile platform around," he added.
SAP forecasts that its addressable enterprise mobility market is likely to stand at approximately $39B by 2015, growing at 53% CAGR
"Among the trends shaping the mobile competitive landscape and fueling the demand for enterprise mobility solutions are the consumerisation of IT, the demand for round-the-clock business connectivity and the explosion of innovative smartphones and tablets," added Alkharrat.
Mobility forms a key part of SAP's long-term global growth strategy to double its addressable market, reach 1 billion people and generate global revenue of € 20 billion by 2015, it was reported.
SAP's stand at GITEX Technology Week will feature the company's entire range of ICT solutions and accommodate a number of its partner organisations, including Utopia, Wipro, Albilad Arabia, ProCons 4it, Red Hat, MDS, Clariba and Exxova.
SAP can be found in Hall 6, Stand #57 and SAP will also be co-located at stands hosted by Blackberry, Dubai Silicon Oasis Authority (DSOA) and Etisalat.