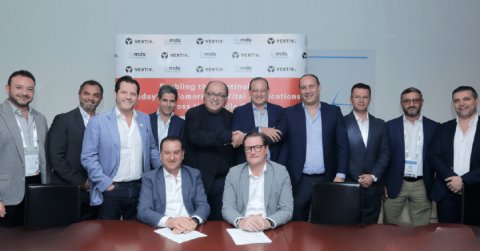 Vertiv, a global provider of critical digital infrastructure and continuity solutions, recently announced the extension of its five-year strategic collaboration agreement with MDS SI Group.
"This renewal underscores the strong collaboration that both organizations have cultivated in the Middle East and Levant region over the past three decades, consistently advancing technology solutions, offering top-tier products and exceptional on-the-ground support," commented Karsten Winther, president for Vertiv in Europe, Middle East and Africa. "As we navigate the dynamic digital landscape, we look forward to continuing our journey together towards delivering innovative solutions that cater to the ever-evolving needs of businesses across the region".
"We are very pleased to extend our strategic partnership with Vertiv. As the Middle East takes center stage to be the next global data center hub, companies and industries of all sizes are actively increasing investments in the region. Vertiv, a global provider of critical digital infrastructure solutions provides an extensive array of programs and services to cater to the essential infrastructure requirements. This will empower data center operators to enhance their operations, fostering greater value with more energy efficient operations," commented Sami Abi Esber, President – MDS SI Group.
"The extension of our partnership with MDS SI Group will further solidify our strong ties in the region," said Tassos Peppas, Vertiv's regional director for Middle East, Turkey and Central Asia. "Together we will provide cutting-edge technology solutions to customers across diverse industries to ensure the demand for data management is consistently met with the highest standards, especially in the area of critical IT infrastructure." he added.
In addition to providing the best-in-class products and solutions across the region, Vertiv and MDS SI group remain committed to customer engagement through events and trainings, supporting the adoption of latest technologies across the region. This agreement will enable customers to access industry-leading solutions during a time when digitalization, 5G, Artificial Intelligence (AI) and other trends are driving growth from hyperscale data centers to the network edge.
For more information about Vertiv solutions, visit Vertiv.com.