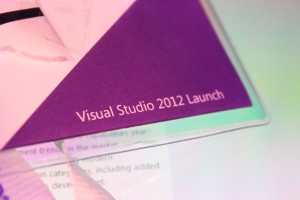 Microsoft today launched the new version of its flagship developer tool suite, Visual Studio 2012, as well as the availability of Visual Studio Express 2012 for Windows Desktop.
Before a crowd of developers and media in Seattle, USA, the company also revealed that the first update of the product, Visual Studio 2012 Update 1, will be available before the end of the calendar year.
Visual Studio 2012 and .NET 4.5, which was included in the launch, are the tools that enable developers to create applications on the upcoming Windows 8, as well as other Windows platforms.
A community technology preview (CTW) test build of Update 1 will be available before the end of September, Microsoft said.
The immediate announcement of the first update at such a soon stage marks the beginning of a new delivery model that will boast updates at a "regular cadence," according to Soma Somasegar, Corporate VP of Microsoft's Developer Division.
"This year has seen the best line-up of releases we've seen in the history of this company. I can't do justice to the richness and functionalities that come out of this product," he said.
Somasegar emphasised the new suite's cloud and social capabilities, as well as its improved user interface to suit increased customer demands led by the consumerisation of IT.
"More and more people are thinking about what it means to get on the cloud and how Visual Studio can help them on that journey. People are also thinking about how to integrate social graphs into applications and to get the benefits from that," Somasegar said.
"There are two things we want people to think about in Visual Studio 2012. The first is that it provides you with the best in class development tools to build modern applications with. The second is that it allows you to make your team environment highly effective and agile to suit customer demands," he added.
Somasegar also referred to the "modern application lifecycle," which he believes users can adapt to with the new suite.
Amongst the features of Visual Studio 2012 are Windows 8 application development and porting enhancements, including the ability to target Windows XP for C++ applications without needing side by side installations.
It also extends on agile methodologies and provides more integrated testing functionality, such as code coverage for manually testing Web apps, cross browser CoderUI or a Web interface for test case management, and provides additional ALM (application lifecycle management) capabilities for SharePoint.
Visual Studio 2012 supports development on Windows 8, Windows Server, Windows Azure and Windows Phone.
Virtual Studio Express for Windows Desktop, and also F# Tools for XS Express for Web, are available for download from today.
CNME Editor Ben Rossi is reporting live from the Virtual Studio 2012 launch event in Seattle, USA. Follow us at @computernewsme.