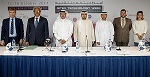 Gitex Technology Week, the region's largest ICT event, will have more than 3,700 companies from 61 countries participating this year. It is expected to attract 100,000 visitors from 150 countries to the Dubai World Trade Centre (DWTC) between 12th-16th October.
The event's lead sponsors and partners Etisalat, Ericsson and Nigeria's National Information Technology Development Agency (NITDA) gave a sneak peek into the four knowledge themes – Smart technology, Cloud, Big Data and Mobility – that will drive GITEX this year at a press conference today.
The region's ICT market is set to jump from a projected $15 billion in 2014 to $20 billion by 2020.
Official Smart Experience Partner Etisalat intends to provide the visitors with a seamless registration process – one aspect of a new 'On Track for the Smart Experience' initiative – that aims to evolve the attendee experience by integrating smart networking and interactive navigation and marketing.
Marwan Bin Haider, Executive Director, Planning & Development, Dubai Smart Government, said, "The region's Smart City developments demonstrate how GCC governments are increasingly innovating delivery of services to people and businesses. GITEX Technology Week is where we will display our IT muscle and our readiness for a hyper-connected world; our vision is to arm the government with digitised services that will play a key role in enabling such an environment."
Dubai Smart Government also intends to launch a Smart Experience service for tourists that will help them register their SIMs at the point of sale when purchasing a number.
Nawar Atassi, Head of New Account Management for GCC & Pakistan, Ericsson, discussed the role of consumer behaviour research in a hyper-connected world. "A new level of mobility will enable the region's Smart Cities, which is at the heart of our networked society vision, to positively impact daily lives at home, at work and in cities. People will be able to live more freely while enjoying smarter features everywhere in more sustainable cities – and Dubai is serving as a global benchmark in Smart City leadership," he said.
Abdulla Hashim, Senior Vice President Digital Services, Etisalat, added, "GITEX continues to set the regional pace for ICT development, as evidenced by the upgraded smart experiences at this year' show. As part of our partnership with DWTC, Etisalat is utilising the latest cutting-edge technology to ensure show visitors receive an innovative smart-themed experience which reflects the rapid developments across the UAE's Smart technology sphere."
The five-day event will hold a Big Data Conference and Cloud Confex on 14th October. Global leaders in data storage and management will present new cloud-based solutions at GITEX with the GCC cloud computing market due to post seven-fold growth with a compound annual growth rate of 32.8% and Big Data market poised to jump from $3.2 billion in 2013 to $15.1 billion by 2020.
The Digital Strategies Forum taking place on 15th will help organisations use mobility to enhance customer interactions.
The event will also feature an official press reception ShowStoppers, online community ConneXions, live streaming of social media, trending topics and tech news via the Content Hub, the 2nd GITEX Hot Stuff Awards recognising top gadgets and GITEX TV – the 53-screen in-house broadcast presence.
Enhanced interactive elements of GITEX include the GSM Exchange Zone, a platform for the mobile product industry, the C-Level Majlis Lounge for senior executive networking, free Smart Sessions for knowledge-sharing, the ConneXions Lounge, SME Zone, GSMA Mobile 360 Series: Middle East, and InfoComm MEA.