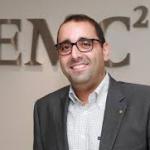 EMC announced today incentive schemes that reward channel sales and give resellers greater control. It is enhancing the way it works with channel resellers to target the entry-level segment in EMEA (i.e. product sales worth between $5,000 and $25,000).
To increase sales in this segment, EMC has implemented a simplified quoting process, introduced new products and launched an innovative sales incentive programme. Channel resellers will thereby have more autonomy in entry-level segment sales and the potential to benefit from an uplift in sales.
To simplify the quoting process, EMC now allows distributors to quote immediately, rather than have to register each deal. This innovation will reduce the time it takes for resellers to close each sales cycle and affords them greater control over the sales process. This approach both benefits the distributor (by creating a predictable fixed-margin business) and EMC (accelerating the sales cycle by reducing the interaction with EMC).
The Reseller Incentive rewards resellers with a $300 incentive for each sale (retrospective to the first sale). Resellers reaching more than 50 per cent of their sales target are treated to a sports car driving weekend. The Distributor Incentive rewards distributors with rebate when they exceed targets allocated to them via a Goal Acknowledgement Form.
Combined, these incentives will help EMC drive increased sales while rewarding resellers for success.
EMC's VNXe storage solutions, the VNX5100 and its entry level backup and recovery products – DD160 and DD620 – are all included in the programme. EMC has also introduced two new products, the DD2200 (backup and archive) and VNXe3200 (storage), also eligible for the new incentive rebates. A number of the DD2200 and VNXe3200 products will be made available to a large number of EMC resellers in EMEA for six months to allow them to run enablement training or hold end-user demonstrations within their own demo environments.
"The entry level segment remains a market of great opportunity for EMC and our channel resellers who play a critical role in extending the right solutions and service expertise to customers across the region," said Havier Haddad, Channel and Alliances Director, Turkey, Emerging Africa and Middle East at EMC."
Across EMEA some 4,500 resellers qualify for this programme and in H1 2014 some 620 resellers were already engaged in selling the above products.
"Our resellers are the best in the market and we want to both reward them for their ongoing success while giving them the freedom they need to achieve it. We look forward to working with our partners to expand our footprint in the entry-level market and remain committed to making this a highly successful endeavor for both EMC and our resellers," Haddad said.