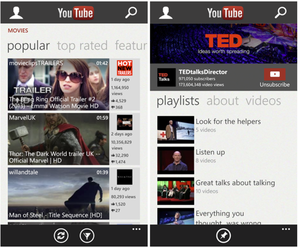 Two days after a Microsoft-made YouTube app arrived for Windows Phone, Google blocked Microsoft's access  – Sometimes, it just ain't easy being a Windows Phone owner.
A mere two days after a revamped, Microsoft-made YouTube app landed on the platform , bringing sweet relief to the poor Windows Phone users long saddled with an old and crappy port of the service, the new app has stopped working whatsoever. Why, you ask? Because Google blocked Microsoft's access. Again.
"Microsoft has not made the browser upgrades necessary to enable a fully-featured YouTube experience, and has instead re-released a YouTube app that violates our Terms of Service," YouTube spokespeople told both The Verge and TechCrunch. "It has been disabled. We value our broad developer community and therefore ask everyone to adhere to the same guidelines."
While the situation stinks for Windows Phone owners, it's pretty ironic for several reasons. Google has long refused to release an official YouTube app, so Microsoft has been forced to home-brew a band-aid of its own to keep Windows Phoners placated.
"YouTube is consistently one of the top apps downloaded by smartphone users on all platforms, but Google has refused to work with us to develop an app on par with other platforms," Microsoft told TechHive when Microsoft first published a new YouTube app all the way back in May.
That release rankled Google for several reasons, most notably that the app allowed users to easily download videos–and it cut all the ads out of YouTube completely.
"We'd be more than happy to include advertising, but need Google to provide us access to the necessary APIs," Microsoft said at the time. Clever, clever!
Barely a week later, Google took Microsoft up on the offer, and the companies announced that they were working together to create a YouTube app that "enable compliance with YouTube's API terms of service, including enabling ads, in the coming weeks."
Backstory
The Windows Phone YouTube app released earlier this week was assumed to be the result of that temporary union, but something must have revived the bad blood between the two to coax Google into cracking down so swiftly. Sources tell both The Verge and Engadget that the YouTube app released earlier this week was not, in fact, the joint effort touted months ago. Instead, the sources claim, the Windows Phone release was a native app that Microsoft built by reverse-engineering Google's advertising network, rather than the HTML5-based app that Google wanted made.
No matter what caused the banhammer, one thing is certain: Windows Phone users are the ones suffering from this petty cat fight, and both Google and Microsoft have been left looking absolutely terrible.