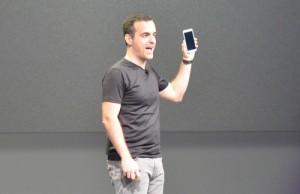 Google's Android OS has more than 900 million users, the company said Wednesday at its I/O event in San Francisco.
Google also announced several APIs that will let developers add more capabilities to their Android apps, including in the areas of location and improving battery life.
"It's been an amazing year for Android developers," said Android and Chrome vice president Sundar Pichai.
Google has sent more money to developers through their Play Store sales in the last four months than it did in all of 2012 and revenue per user is now 2.5 times higher than it was a year ago, the company said.
Showing a map of the world where Android penetration is less than 10 percent – which encompassed most of the world outside North America and Europe – Pichai said Google's next focus is "bringing the next 4.5 billion online."
To date, Google has seen more than 48 billion Android application installs, and 2.5 billion in the last four months alone, said Hugo Barra, vice president and product manager of Android.
Google announced an update to Google Play Services, a layer of software managed by Google on top of Android, which includes APIs for Google services like Google Maps and Google Now.
Google Play Services is updated independently of Android, to give developers access to the latest Google APIs, helping to solve the Android fragmentation problem.
Google launched new location APIs as part of Google Play Services. The first, Fused Location Provider, includes a low-power location mode that should extend battery life by using less than 1 percent of battery per hour, Barra said.
The second, Geofencing, let's developers define "virtual fences" around geographic areas that are triggered when a user enters and leaves those areas. "This has been a big ask from you guys," Barra told the developer audience, who cheered the news.
The last is Activity Recognition, which uses accelerometer data and machine learning to figure out when the user is doing things like walking, driving or cycling.
Google has also advanced Google+ Sign In, by adding "cross-platform single sign-on. " That means if a user signs on at a company's website and chooses to download their app, the app downloads automatically to the user's Android device and the user will be already logged in.
It also advanced Google Cloud Messaging, a hosted service that lets developers push messages from the cloud to their apps. GCM now supports persistent connections, so large numbers of messages can be pushed out to many devices, simultaneously.
It also added upstream messaging, so that app data can be sent from the app back to a developer's servers just as easily.
Lastly, a new GCM API synchronises notifications across different devices, so if a user dismisses a notification on their phone, for instance, it also disappears on their Android tablet.
The moves are all designed to let developers bring more capabilities to their apps and reduce the friction involve in downloading and installing apps.
The new APIs are available in a new version of Google Play Services that rolls out Tuesday.