Google is looking to join the arms race between Instagram and Snapchat following the tech giant's announcement to integrate AMP 'stories' into its mobile search engine.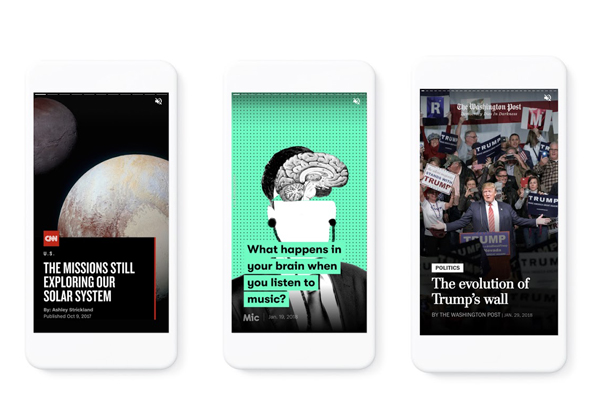 This is a recently launched addition to the AMP Project that provides content publishers with a "mobile-focused format for delivering news and information as visually rich, tap-through stories," according to Rudy Galfi, Product Manager for AMP at Google.
"AMP stories aim to make the production of stories as easy as possible from a technical perspective. The format comes with pre-set but flexible layout templates, standardised UI controls, and components for sharing and adding follow-on content," said Galfi in a blog post. "Yet, the design gives great editorial freedom to content creators to tell stories true to their brand."
He added that publishers involved in the early development of the AMP stories format — such as CNN, Conde Nast, Hearst, Mashable, Meredith, Mic, Vox Media, and The Washington Post — have brought together their reporters, illustrators, designers, producers, and video editors to creatively use this format and experiment with novel ways to tell immersive stories for a diverse set of content categories.
As of today, the new AMP story format is "free and open for anyone to use," Galfi wrote. Google has put together a tutorial and reference materials for those interested in building AMP stories, and they can now be shared and embedded across sites and apps.
"At a later point, Google plans to bring AMP stories to more products across Google, and expand the ways they appear in Google Search," Galfi said.
Right now, AMP stories are limited to mobile search, but Google says they will eventually work on desktop devices as well.