Google has announced the launch of an Arabic online learning platform as part of the firm's efforts to help people in MENA find jobs and advance their careers or grow their businesses.
The tech giant has launched 'Maharat min Google', a free digital skills-building programme in Arabic.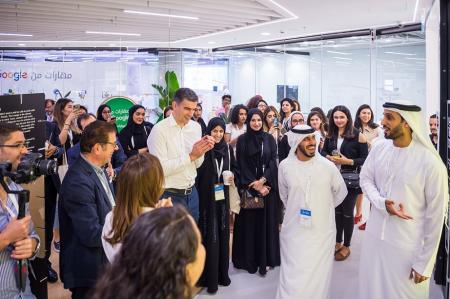 The project is based on a blended learning model, 'Maharat min Google' provides free courses, tools, and in-person digital skills training to students, educators, job seekers and businesses.
The online platform — g.co/Maharat — has 100 lessons across 26 core topics in digital marketing that include search engine marketing, social media, video, e-Commerce, geo-targeting, and data analytics, among others. Google will provide a certificate upon completion of the full course, which takes about nine hours to complete.
"We're delighted to be bringing 'Maharat Min Google' to the Middle East and North Africa — our contribution to the future of the workforce in MENA. This program is free of charge, available in Arabic and accessible on any platform. 'Maharat Min Google' draws on our 20-year history of building products, platforms, and services that connect people and businesses, helping them grow and succeed online. We know how valuable digital tools are to MENA's future and we at Google are proud to be an engine supporting their growth," said Matt Brittin, Google's president of business operations across Europe, Middle East and Africa.
Google also signed an agreement with Mohammed bin Salman bin Abdulaziz Foundation (MiSK) which will conduct in-person trainings to more than 100,000 students across Saudi Arabia. Both collaborations with Injaz and MISK will target 50 percent female participation. Google is looking for further local partnerships across the region with governments, universities, private-sector businesses and nonprofits to expand the reach of its 'Maharat min Google' program.
The company also announced at the launch event that Google.org, Google's philanthropic arm, is granting $1 million USD to INJAZ Al-Arab, a regional nonprofit organisation, which will roll out in-person trainings to 100,000 students across 14 countries in MENA focusing on youth in underprivileged and rural areas.
Akef Aqrabawi, CEO of INJAZ Al-Arab, said, "We are very happy with Google's support to offer digital literacy skills across the MENA region and to expand the reach of a program like 'Maharat min Google'. We share a common vision with Google and want to support the Arab youth, especially those in rural areas and underprivileged communities, in preparing them for future job opportunities and in empowering them to become successful entrepreneurs."
Courses are available on g.co/Maharat and new lessons will be added in the future.