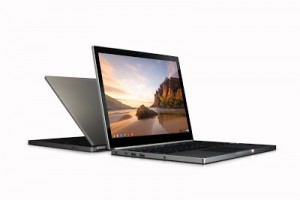 Google on Thursday unveiled the $1,299 touchscreen Chromebook Pixel, a pricey slab of hardware that runs Google's Web-centric Chrome OS, but defies conventional Chromebook wisdom.
This compact laptop features a 12.85-inch, 2560-by-1700 touchscreen display, a 1.8GHz Intel Core i5 processor, an Intel HD 4000 integrated graphics chipset, 4GB of memory, and 32GB of solid-state storage – all in a 3.35-pound package that's about 0.64 inches thick.
The Pixel also comes clad in anodised aluminium and has a back-lit keyboard and 720p webcam. All in all, it looks to be a premium piece of hardware that bears very little resemblance to Chromebook devices, which emphasise low pricing and bargain-basement components.
Take the new Pixel's display. Its screen resolution equates to roughly 239 pixels per inch, which is slightly greater than the 227 pixels per inch on the 13-inch Apple MacBook Pro with Retina display. The Pixel also comes with 1TB of free cloud storage via Google Drive for three years.
And for an even more expensive $1,449, you can get a model with twice the storage (64GB instead of 32GB) and 4G LTE support. That's right: $1,449. For a Chromebook.
Why buy a Pixel?
The $1,299 price tag on the base model Pixel is almost as much as the prices of all the other Chromebooks available now combined (earlier Chromebook models start at around $200). So why in the world would anyone buy this thing? We'll answer that question definitively as soon as we get our hands on the flesh-and-blood hardware. But for now, we can only surmise that Google is looking to wow the world with a "flagship" Chromebook that demonstrates the platform's potential.
That's right. No one is really expected to buy this thing. Just like no one was really expected to buy Google's first piece of self-branded hardware, the Nexus Q media streamer. Indeed, people who are most interested in the "ease of use" aspects of Chrome OS – for example, constant, behind-the-scenes updates, and the lack of malware – aren't likely to spend $1,300 on Chromebook hardware. For that kind of dough, they'll opt for a real machine, the perils of Windows 8 notwithstanding.
Disagree? You can order a Chromebook Pixel through Google's website today.