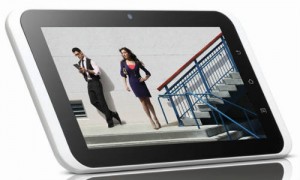 HCL Infosystems has predicted that tablets will overtake smartphones and laptops to become the number one device used by consumers by the year 2015.
Speaking at the launch of HCL Infosystems' new range of tablets for the Middle East and Africa, Srinath Nagarajan, Business Head, MEA, said that the exponential growth of tablet sales over the last few years is evidence enough that within two years the devices will be the primary choice of communication and connectivity in the consumer market.
"In 2012 122 million tablets were shifted, we predict that 172 million will be shifted in 2013, that growth shows that even though tablets are currently third behind smartphones and laptops for consumer preference, they will soon take the lead," Nagarajan said.
HCL believes that style and accessibility are crucial in the tablet market and the speed of change in the technology sector means that customers constantly want the best and latest version of everything they consume.
"There is a micro-category within tablets – a more approachable and accessible tablet. This is where we come in, and with these tablets now we are offering real value."
Nagarajan announced the release of the new ME series of entry level tablets available from a tempting AED399, making them a very competitive device indeed. The range includes the U2 tablet, the V1 phone tablet and the Y3 dual sim 3G tablet, all available exclusively in the Middle East and Africa. Each tablet runs on a version of the Android Ice Cream Sandwich operating system.
"We are witnessing a transition at the moment, where people are integrating phones and laptops into one single device, and these are tablets. We are excited to be a part of that growth and are here to help with that transition."
As well as this announcement, Nagarajan stressed that HCL Infosystems, an original Indian startup turn $6.2bn company, believes not only in great products but also the post-purchase care and support for its customers. In such fashion, he announced a new collaboration with telecom giants Axiom.
"It's not just about selling products, we want to be there with them [customers] if they need support," said Nagarajan, speaking about the collaboration with Axiom.
The launch took place today inside the Shangri-La hotel in Dubai and HCL Infosystems believes it will be the start of a very successful year for the company.