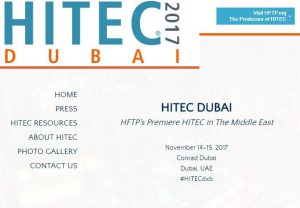 International association Hospitality Financial and Technology Professionals (HFTP), in partnership with Naseba, are bringing Hospitality Industry Technology Exposition and Conference (HITEC) brand to Dubai, UAE for the first time. HITEC Dubai will take place from November 14-15, 2017 at the Conrad Dubai in Dubai, UAE – serving as the third HITEC of 2017.
According to the company, HITEC Dubai is accessible to buyers from the Middle Eastern tourism and hospitality market, currently worth over $75 billion. Modeling the HITEC Amsterdam format, the show will offer an education programme, exhibits as well as a summit with one-to-one business meetings between pre-qualified hoteliers and cutting-edge technology providers.
Marwan Al Ali, group chief information officer, Jumeirah Group, is serving as the Advisory Council Chairman for the inaugural HITEC Dubai. The HITEC Dubai Advisory Council features senior executives from leading local and global chains; together these experts have over 200 years of combined industry experience. Focusing on technology solutions and top trends, the advisory council is responsible for planning the conference's educational programme. Some topics on the programme include: bandwidth and HIS; data analytics and intelligence; intuitive technologies; sustainable technologies; future of management systems; robotics; AI; blockchain; and cyber-attacks.
"We are very excited to have HITEC based here in Dubai for the first time," said Al Ali. "HITEC, over the last few decades, has developed a very strong reputation when it comes to hotel technology. HITEC plays an important role in connecting people across the industry, and brings the latest trends in hotel technology to the audience at HITEC."
Attendees will have an additional resource to use while navigating the conference – the HITEC 2017 multi-event mobile app will serve as a comprehensive guide for information on education sessions and exhibits while also providing social feeds and in-app correspondence capabilities for exhibitors and attendees. Available for download from the iTunes Apple Store and Google Play, the app will feature all of the HITEC Dubai information attendees will need.
In 2018, HFTP will bring back HITEC Amsterdam on April 11-13 in addition to the larger HITEC Houston on June 18-21.