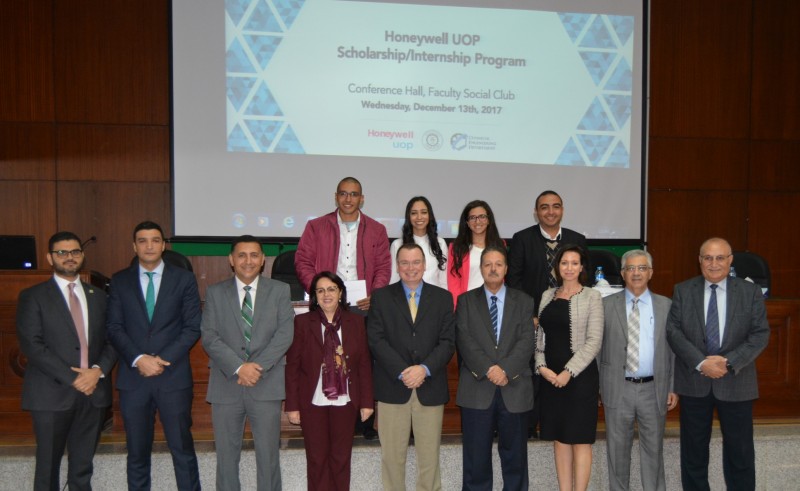 Honeywell has announced that it has awarded scholarships to four students from the chemical engineering department of Cairo University, as part of its commitment to developing young engineering talent in Egypt. The announcement was made at an event hosted by Cairo University's faculty of engineering, and attended by Khaled Hashem, president for Honeywell in Egypt and Libya; Jim Rekoske, vice president and chief technology officer at UOP; Prof. Dr. El Khosht, president of Cairo University; Prof. Dr. Elsayed Ahmed Tag Eldin, dean of Cairo University's faculty of engineering; and Prof. Dr. Ehab Fouad Abadir, head of the university's chemical engineering department.
As part of the scholarship programme, the four students – Nada Mohamed Baha'a El Din Zaghloul, Ahmed Hesham Yousry, Alaa Ashraf and Hossam Mohamed – each were awarded $1,000 by Honeywell UOP. The students were among 14 candidates from the university who went through a campus interview process led by Honeywell UOP, with criteria developed in concert with the faculty.
"The Honeywell UOP scholarship programme is part of Honeywell's investment in building the engineering talent in Egypt, and in recognition of the excellent academic potential here," Rekoske said. "This programme is a result of our ongoing collaboration with Cairo University, and we're looking forward to continuing this relationship for years to come."
In addition, one of the four students will be selected to attend a seven-week internship programme at the Honeywell UOP Research and Development Center located near Chicago next year. This is the second year that Honeywell has sponsored this scholarship program with an internship.
"The recognition we earned through the Honeywell UOP scholarship program is a testament to the education we have received at Cairo University," said recipient Nada Zaghloul. "This internship is an invaluable opportunity to advance my career, and I look forward to developing my skills so I can contribute to the growth of Egypt's oil and gas sector."