DP World Group Chairman Sultan Ahmed bin Sulayem inaugurated TEKNO 2017 at the Dubai International Convention and Exhibition Centre, (DICEC) yesterday.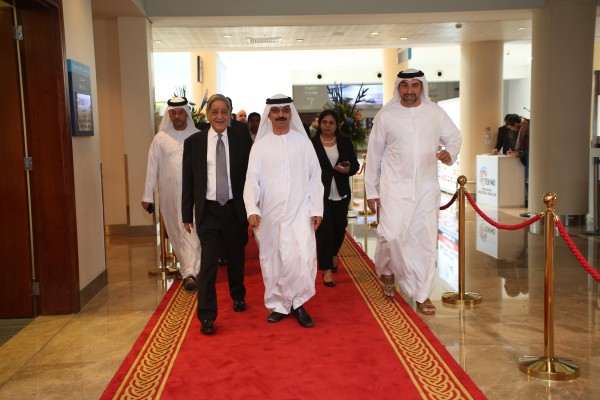 Bin Sulayem toured the exhibition and also interacted with exhibitors to know more about their products, technologies and services on offer.
"TEKNO is a leading industrial exhibition, which over the years has witnessed presence from several key players in the industry," said bin Sulayem. "This year, the exhibition has participants from Germany, Turkey, China and Vietnam, which underlines Dubai's position as a strategic hub for industrial products, technologies and services. While the programme this year has been devised to assist industrial bodies with key trends and technologies, we are confident that their presence here reflects a strong interest in the huge promise that Dubai offers."
Satish Khanna, General Manager of Al Fajer Information and Services – organisers of TEKNO 2017, said, "It gives me immense pleasure to be hosting TEKNO 2017, which has drawn participations from exhibitors all over the world. While the three-day event will serve as a robust platform to network, exchange ideas and engage in discussions, we are confident that the exhibition will resonate UAE's presence on the global industrial map."
The UAE is accelerating its efforts to boost the manufacturing, metal and machinery sector and make it a valuable contributor to the regional economy. While the country is aiming to attract $75 billion by 2025 into the country's new industrial manufacturing sector, it is noted that the aluminum and metal exports have witnessed a growth of 13 percent, whereas machinery and equipment exports have grown by 11 percent.
TEKNO 2017 features specialised areas as Tube Middle East, Metal Middle East, Wire and Cable Arabia and Welding and Cutting Middle East, and showcases products, services and technologies of over 100 exhibitors from 21 countries, which are Austria, Canada, China, Egypt, Finland, France, Germany, Hong Kong, India, Indonesia, Italy, Japan, Malaysia, Portugal, Spain, Taiwan, Thailand, Turkey, UAE, United Kingdom, Uzbekistan, and Vietnam.
"As the only dedicated platform to discuss cutting-edge technologies, future trends and strategies, TEKNO is the backbone of the manufacturing, metal and machinery industry and contributes immensely to its development," added Satish Khanna.