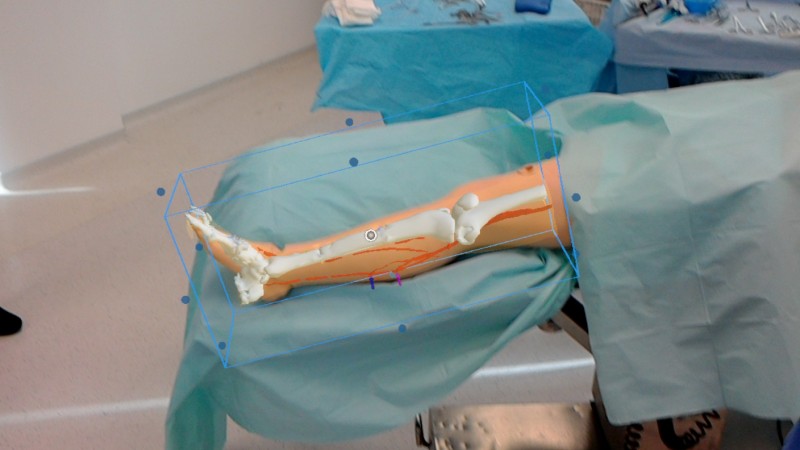 "They say a picture paints a thousand words, but I cannot tell you how many words a mixed reality image is worth." Imperial College London's Dr Philip Pratt is already convinced that the technology is the future of surgery.
Pratt, who works for the university's Faculty of Medicine, Department of Surgery and Cancer as a research fellow, has spearheaded a project that has seen the delivery of eight proven plastic reconstructive surgery feasibility cases through the use of Microsoft's Hololens.
"The only way to perform surgery where tissue has been lost is to reuse existing tissue," Pratt says. "The body is covered in skin, and identifying points of skin is the key to reconstructive surgery." A key challenge in this process is locating a patient's blood vessels, to ensure the procedure is safely executed.
Surgeons have historically used Doppler ultrasound and skin markings to find blood vessels, a process which doesn't guarantee a 100% success rate of finding the vessel at the first attempt. One such example where locating vessels quickly is particularly important is where skin from the abdomen is used following breast cancer reconstructive surgery. If this reconstruction can be planned in advance, it promises to save time on the operating table.
"A big thing in medicine is GIRFT – 'getting it right first time,'" Pratt says. "You can go in with plan A, B or C, and although it's hard to quantify the effects of that over time, by pre-planning surgery, it's likely to deliver things like lower infection rates. An operation may take 10-12 hours, so if you can reduce that time on the operating table in which the patient is under general anesthetic, that's a huge benefit."
Having discussed ways that Imperial College could enhance and accelerate the process of locating blood vessels, Pratt led an initiative which would see the university using Microsoft's Hololens mixed reality headset to map and visualise the positioning of blood vessels. This would enable surgeons to have a clearer picture of where vessels were when performing skin graft operations.
"It's a whole different ball game with Hololens," Pratt says. "It's improved things because we can save time by marking up vessels in advance, spot if vessels aren't where they are expected to be and make incisions in places that you normally wouldn't. It lets you tailor an operation with information. People talk about the sexier bits of plastic surgery, but this saves time."
Pratt has been impressed with the speed at which the technology has been adopted by Imperial College. "It's surprisingly quick to acclimatise to using Hololens," he says. "It's very easy to use, and I think the next step is making sure the projection can automatically snap to the leg, but when it can, then it will be interesting to see how we can actually operate with it."
He also believes the process could transform medical education. "It has massive potential for application in teaching. Medical education could be done purely through simulation. Simulation is by far the biggest thing at the moment in teaching, but the biggest problem is setting it up, and it's also hard to simulate in open surgery."