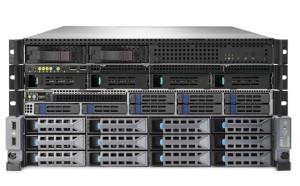 As more computing moves to cloud-based data centres, Hewlett-Packard is moving there, too. 
HP said that it is creating a server family aimed specifically at building systems for cloud providers.
This is being done as part of a joint venture with Foxconn, a partnership announced last year to create cloud-optimised servers. HP has been building servers with the Taipei-based electronics maker over the last year, but is now giving a name to its server line: Cloudline. It has also announced several server products.
Cloud-specific servers are designed for hyperscale environments built with thousands of servers. According to HP, its systems are based on standards-based principles and utilise rack-scale computing.
With rack-scale systems, functions that were previously located in the server, such as cooling and power, may be part of the rack. The systems will likely be deployed in multi-vendor environments, although users want uniformity in controls, said Dave Peterson, group manager of Proliant server products.
HP will use the Intelligent Platform Management Interface (IPMI), an open management platform, and other systems that help provide a uniform way of managing hardware.
The hyperscale x86 server market has been growing fast, and this has led to increasing numbers of original design manufacturers (ODM), such as Taiwan's Quanta.
Richard Fichera, an analyst at Forrester, said HP's partnership with Foxconn gives it parity with the low-cost suppliers, but HP can take advantage of its breadth and reach as well as the services it can add.
"Not everyone is a self-sufficient cloud provider," said Fichera, who noted there are many cloud providers that want services as well as hardware. "To a certain extent, nobody is going to make a lot of money on the hardware," he said.
The cloud hardware will also have to appeal to enterprise clients, such as financial services firms that are also building out cloud environments, said Fichera. "I think it's a very smart adaptation by HP to changing times," he said.
HP is announcing these OpenStack systems at the Open Compute Summit and will begin taking orders on some of the systems at the end of this month. The systems use Intel Xeon E5 v3 processors and come in five configurations, including a two-socket (2P) server sled configuration and 1U configurations. Pricing was not announced.
Originally published on
Computerworld (US)
.
Click here to read the original story.
Reprinted with permission from
IDG.net
. Story copyright 2018 International Data Group. All rights reserved.