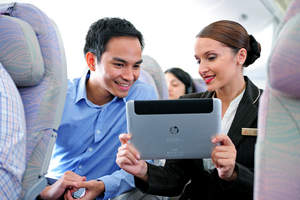 HP officially announced the ElitePad 900 tablet in the Middle East today, following months of waiting since the company announced Emirates Airlines as the global launch partner back in December.
The ElitePad 900 was presented to distributors and press in Dubai by HP's general manager of its printing and personal systems group, Salim Ziade, alongside Emirates' VP of cabin crew, Kevin Griffiths.
Griffiths had previously told CNME that deployment of the HP tablet had been slow due to application and software issues which were "Impossible to detect before pushing certain technological boundaries."
Emirates was the first customer to announce the use of the new device. The airline company adopted the hardware as the platform for its KIS (knowledge-driven in-flight service) technology which is now roughly eight years old.
"We initially trained around 100 people for use of the device but we kept this relatively quiet. We were waiting for delivery of the device, that was one issue, also we're just finalising some issues with the build, involving some of the firmware," Griffiths said.
"We only have 70 devices onboard at the moment because we've had to work closely with HP to tackle difficulties with the technology. In all we do as an airline, we take a leap of faith, and this was no different. We want to push the boundaries of technology and you don't know what issues you're going to face with the technology until you get there, that's why this has taken time."
Griffiths said that Emirates was very honest about the pilot deployment it announced back in December and that it hopes to begin rolling out up to 1000 devices from May.
"One of the major issues was the dial-up connectivity in third-world countries. A lot of these devices are built for first-world, 4G ready places. In a lot of places they're still relying on dial-up connections. So we've been working with HP to fix these issues so that we can still have a rock solid connectivity in these places."
Emirates flies to over 120 destinations worldwide, so it may have come as a surprise that HP hadn't come up with a response to the connectivity issues of the device before the initial deployment, but Griffiths stressed that it was a very complex issue which HP and Emirates have had to work very hard on as and when the symptoms arose.
"It was a huge case that I don't think any of the devices could deal with. Had we deployed iOS or Android, they would have faced the same issue. None of the modern tablets have necessarily thought through our user case, and I've spoken honestly about our partnership with HP and Microsoft, we've heavily pushed the boundaries on three or four things throughout the project which may or may not have been envisioned by someone, and I think that's one of the things HP and Microsoft will value from us – we've asked very challenging questions which has helped them [develop the product]," he said.
The new device
The ElitePad 900 will not be marketed towards the retail space at all, according to Salim Ziade, who believes that this device can do things that no other tablet in the market can do, making it the ideal enterprise tool.
As well as showcasing the device, HP was also keen to discuss its smart jacket range which accompanies the tablet, offering a number of additional features.
"The jacket is tailor made for the device and also has an extra battery built into it, increasing the battery life from ten hours to twenty hours once the device is fixed in," he said.
"We're very proud of the functionality of these jackets and we can announce that there will be a separate organisation within HP specifically for developing them."