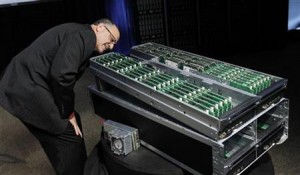 HP demonstrated that innovation is well and truly alive as it announced the official release of its new revolutionary class of server, Moonshot, to an exclusive selection of press and analysts in London today.
The second-generation server type is set to entirely revolutionise the data centre by addressing exponential growth constraints caused by new technologies such as cloud, big data, mobile and social.
The exclusive event, held at Vanilla club, in London, began with a video message from CEO Meg Whitman, who discussed the changes that IT has gone through since the data explosion, and how these changes have pushed traditional servers to their limits in regards to space, energy, and costs.
"With nearly 10 billion devices connected to the internet and predictions for exponential growth, we've reached a point where space, power and cost demands of traditional technology are no longer sustainable," she said.
"Moonshot marks the beginning of a new style of IT that will change the infrastructure economics and lay the foundations for the next 20 billion devices. Today is the culmination of nearly six years of work."
Following this, Dave Donatelli, Executive Vice President of the Enterprise Group, presented another video message before the CTO, David Chalmers took to the stage to introduce Paul Morgan, Hyperscale Business Manager, and Paul Santeler, VP and GM of Hyperscale Business worldwide.
Speaking to CNME, Morgan said that this was one of the most exciting days in HP's recent history, following a difficult period for the IT giant.
"This is the most exciting event I can remember, because this technology is not an evolution, it's a revolution. This product is a completely new design, it's setting a new benchmark for servers, much like our blade system did back in the mid-2000s," he said.
"This product proves that HP is still the biggest the IT company in the world and that we're still innovating and producing industry leading products ahead of our competition."
David Chalmers told CNME that although HP has been busy in the innovation space, it's fair to admit that it hasn't been working strongly enough in communicating with its markets and partners.
"One fair criticism is that we haven't always communicated well enough – but that's what makes an event like today all the more special. This is the launch of something that has been in the pipeline for over six years, and in the roadmap for two. What Meg has done is come in with a fresh view on bringing products like this to market, and presenting them in the right way," he said.
"It won't be long before our competition sees a product like this and tries to bring something similar to market, but we have the talent in our labs to maintain this leadership. If you consider the iPod – plenty of competitors tried to match this product, but Apple got it right, and maintained that dominance – you'll be seeing that from us in this space."
The Moonshot server will deliver compelling new infrastructure economics by using up to 89 percent less energy, 80 percent less space, and 77 percent less costs than traditional servers.
This launch certainly demonstrates HP's ability to continuously bring innovative products to market. The company also introduced the first commercial UNIX server, the HP 9000 Series 840, as well as the first x86 server, the HP SystemPro. Over a decade later, HP was granted one of the first patents for blade server architectures. The company has been the leader in this space ever since.
This second-generation version of the Moonshot product will aim to address the new wave of IT – cloud, social, mobile and big data – by being built from chips found in smartphones and tablets, which allow the servers to deliver reduced energy use and a high-density footprint.
The event continues for a second day and you can follow all the action live on Twitter by following @Computernewsme.