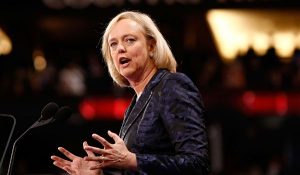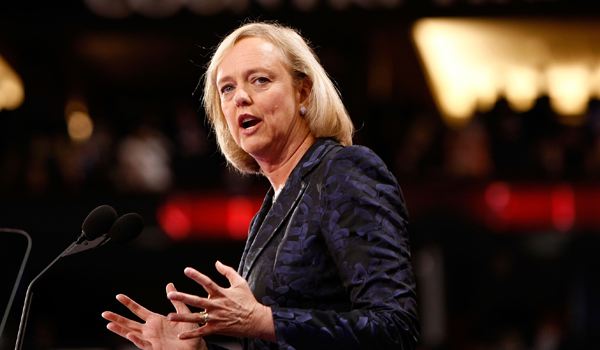 HPE CEO Whitman announced that she is resigning from the role after a 35-year career, yesterday. In an interview with CRN, she explains the reasons behind her action and talks about how apt the role is for the succeeding CEO of the firm effective February 2018, Antonio Neri.
The current HPE CEO Whitman says Neri is "exactly the right person at the right time" to lead the IT giant's future endeavours.
"I think Antonio is super capable of taking this company to the next level. Antonio is as committed, if not more so, than I am to the partners and the channel. He wants to do exactly what is right for the partners and our joint end customers," Meg Whitman told CRN.
She explained that right from the beginning Neri has always tried to ensure the firm's focus never left the channel.
She added, "He comes with deep relationships with not only the VARs, but also the distributors, the systems integrators and the ISVs. It was one of the important criteria. We would never have picked a CEO who was not committed to the channel."
According to HPE CEO Whitman, it was the right time for a new chief executive officer because HPE's (Hewlett Packard Enterprise) foundation was now well-established. "Now is the right time I think for Antonio and a new generation of leaders to take the reins. As you know, Antonio is a longtime veteran of this company, deeply understands the partners, is completely committed to the channel and is a deep technologist," she said to CRN.
Firmly believing that the next CEO needs to come from inside the company and have a strong technology background, she added, "I will still be on the board. I will help when asked. Antonio is super capable of taking this company to the next level. He wants to do exactly what is right for the partners and our joint end customers."
Whitman expects to be "an encouraging, cheerleading board member" for Neri on the board.
"There is a reason that I am not the chairman. Pat Russo will continue as the chairman. I think it is hard for new CEOs to have the old CEO be the chairman. Antonio needs to take the reins and he needs to do what he thinks is right for this company without worrying about what I am going to think."
She added that it is a bit harder for the new CEO when the former is sitting as the chairman.
"I will be a rank-and-file board member who tries to help Antonio in any way I can."
Neri is set to take over effective 1st February, 2018. According to Whitman's interview with CRN, he was promoted in June so has already undertaken a lot of responsibility.
She added, "All of the business units report to Antonio today with the exception of Financial Services. So he will continue to do much of what he has been doing. He will obviously do the earnings call next February. I think it is going to be a really seamless transition because we have worked together so closely."
She added that she has already been deferring to Neri over the last couple of months.
"I often say to Antonio, 'This is your call.'  It is not that long until Feb. 1. We are almost at the beginning of December. Increasingly this will be the company Antonio leads. I want to make sure he has a chance to put his imprint on the company. But it is not going to be contentious because we totally agree on virtually everything."
HPE CEO Whitman said to CRN that she is going to take some time off after working continuously for 35 years. She is also going spend more time with Teach for America, where she is the incoming chairperson.
"I will spend more time on Teach for America and philanthropic activities. But then I will see what comes along. Things reveal themselves. When I lost the race for governor [of California in 2010] if you told me I was going to be the CEO of Hewlett Packard I would have said there is no possible way. And yet that is what revealed itself. So, we'll see what happens next." She also added that she will not consider politics again.
Whitman said to be successful in the coming years, partners should first trust Neri and remember that "change is a constant."
"I would embrace the software-defined data centre and the intelligent edge. That is where the growth is going to be. I would make sure every partner has a services offering or resells ours because the services offering is the annuity-based revenue stream and it is a very profitable revenue stream," HPE CEO Whitman told CRN. "So, software-defined data centre, intelligent edge and making sure partners offer their own services or resell ours would be my prescription for partners to be successful the future."