The upheaval of the past 18 months has highlighted the importance of connectivity, and at the Ultra-Broadband Forum 2021 in Dubai, Huawei showed the pivotal role its technology plays in keeping the world connected.
Indeed "Extend Connectivity, Drive Growth" was the theme of the two-day event, which is the largest fixed network summit this year.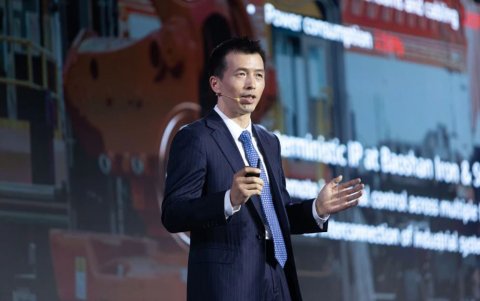 In a keynote address, Peng Song, President of Global Carrier Marketing & Solution Sales at Huawei, outlined how value could be created from Huawei's Coverage, Architecture and Fusion (C.A.F.) Model.
Dealing with the first element, Coverage explores meeting the changing demands of connectivity from households and enterprises for the new growth. Peng detailed how the number of connections has grown over the past year as network coverage has increased.
Illustrating how demand for bandwidth has grown, he told delegates that there were now 420 million students studying online and 20 million live streamers – ten times the pre-pandemic number. "Enterprises no longer just focus on bandwidth and stability for connectivity, they want shorter TTM more elasticity and committed quality," he said.
He said that enterprise connectivity was changing from CT to OT, and that to seize new opportunities, network coverage must be extended into more homes and companies.
Huawei's innovative products and solutions, such as full-service fibre grid planning, can help in rolling out fibre access, reducing costs and shortening TTM.
Huawei's AirPON solution can reuse existing sites and fibre resources. This can also speed construction, as can the use of Huawei's Digital QuickODN solution, which does not require fibre splicing. Improving home networks is also key, including through value-added services and Fibre to the Room (FTTR) from operators, and scenario-based broadband is another important element.
For leased lines, Peng said it was a "top priority" to provide differentiated offerings, such as flexibly combining different levels of latency and reliability.
As well as leased lines, Peng said enterprises also needed better OT connectivity, giving as an example Huawei's deployment of a passive optical LAN (POL) at one of its factories, something that cut the space of equipment and cabling by 80%, and power consumption by half.
"If we can extend connectivity from WAN to LAN, leased lines become private networks, and it's the
new blue ocean for operators", he said.
When it comes to the Fusion part of the C.A.F model, Peng said there are two phases. The first phase of Fusion ensures that connectivity becomes cloud centric. It is just as important as the cloud for digitalisation, but network ability has not grown as fast as cloud-based rendering technology. In the second phase, connectivity should converge with cloud and build an ecosystem, which requires atomisation and openness of the network capabilities.
China Telecom in Jiangsu province has achieved with SRv6 to allow quick migration to the cloud. MTN Group is building a backbone network across Africa that can connect multiple data centres and cloud providers with lower latency. These efforts make leased lines more competitive as the access to multiple clouds is important.
As more enterprises move core production systems to the cloud, both their LANs and WANs must become deterministic.
"Different sectors have different needs", Peng said. "For example, security is key to the healthcare sector, while latency is critical in the finance sector. The cloud-centric network slicing capacities that China Telecom built in Ningxia province for different industries has increased its revenue by 150%".
A cloud-network converged platform is needed, Peng said, to maximise capabilities with operators integrating network, cloud and applications in one-stop services.
Peng described the third element – Architecture – as central to business success, and for benefits to be maximised.
Firstly, it should be elastic. "We can build an all-optical foundation to bring fibre to everywhere with OTN and optical cross-connect, or OXC", he said, "Spine-leaf architecture can enable more scalability for the datacentre-centric network. SRv6 deployed over the entire network can enable end-to-end slicing".
Network services must also be greener, something helped by the shift from copper to fibre, while the deployment of OXC cuts power consumption in the transport network. Other changes include the automation of operations and maintenance, with faults automatically rectified, while scenario-based APIs can open to users, which can redefine and reduce the OPEX of operator networks.
"There are huge opportunities for connectivity. It is key for operators to build network competitiveness based on C.A.F. model", Peng said.
Also in the welcome speech at UBBF 2021, Ryan Ding, Huawei's Executive Director of the Board and President of the Carrier Business Group, told delegates that connectivity was more than an expansion of functions, it was "an emotional bond" and something that "makes the world a better place".
"More than 170 years ago, the world's first submarine cable was laid, sending the first communication signal across the ocean", he said, "This was a huge step forward for humanity. About 20 years ago, connection speeds exceeded 32 Kbps, and video began to surpass text as the major form of traffic, allowing us to communicate like never before. When the pandemic hit the world in 2020, connectivity once again reshaped how we live and work. Our social networking, entertainment, work and education are no longer restricted by time and space".