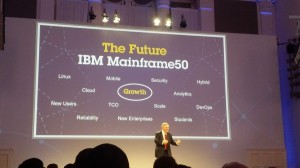 IBM yesterday hosted its Mainframe50 event, to celebrate the 50th anniversary of the System/360 mainframe.
Keynotes from IBM delegates focused on the history of the mainframe, the trust it has cultivated around the world, the digital transformation, and what the future holds for the mainframe.
IBM drew on guest speakers from Citi Bank, Visa and Walmart to discuss how the mainframe had benefitted their businesses, as well as a Yale Professor who discussed how the mainframe is powering a project to eradicate HIV in Ghana.
Speaking exclusively to CNME, Pat Toole, General Manager, System z, IBM, discussed how IBM is confident of consolidating its reputation as offering a highly trustworthy and scalable mainframe. He said, "With the unprecedented emergence of the third platform of computing; Big Data, mobile, cloud, not to mention social media and security, any platform has to be adding value for new workloads, and what offer is no different. We aim to add value by exploiting these new trends, and to ensure that our mainframe remains in-step with the emergence of new technologies which grow every few years."
Toole went on to underline the important role the mainframe plays in powering Middle East business and government, "Take Emirates airline for example," he said. "All of Emirates' system runs through our mainframe, and not only has it served them well, but with the amount of users now who carry out mobile transactions, it is important to integrate mobile applications with their systems of record, and through this insight they can create new client experiences. We're also strong in public and financial services in the Middle East, and we aim to add insight to the UAE government."