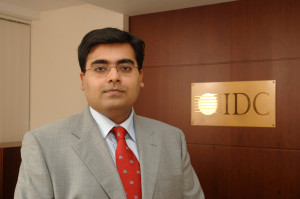 IDC has released its predictions for the IT industry in 2014, and said it believes that Middle East spending will exceed $32 billion in the coming year.
It predicts that the region will make a 7.3 percent year-on-year growth, one of the highest rates in the world for emerging markets.
Qatar is predicted to make the highest growth in the region with 5.3 percent, with Bahrain's growth the lowest at 3.2 percent.
IDC said that Middle Eastern governments will focus heavily on protecting national information assets, expanding agencies that monitor cyber attacks, with banks, financial institutions and government information at risk.
Citing the UAE's National Electronic Security Authority, it said a lot of other Middle East countries will follow suit in setting up protection agencies.
Consumers, the public, communications and financial services sectors are expected to be the biggest IT spenders in the region, contributing to nearly 74% of the total Middle East IT spending in 2014.
Other leading trends that will see greater investment in the region include mobile device management, big data analytics, software-as-a-service, and the acceptance of smaller-screen tablets.
A vast increase in spending on 3rd platform technologies is expected.
Jyoti Lalchandani, Group Vice President & Regional Managing Director, IDC, said, "This is a very exciting time for the region in terms of IT spend, and a large part of this is the result of the potential damage of things like hacktivism and the threats to large institutions."
IDC said it believes leading smart city initiatives in Middle Eastern countries Saudi Arabia, Qatar and the UAE will serve as examples to other Gulf countries who want to advance their systems.
It has predicted a large increase in machine-to-machine communication and greater investment in network infrastructure.
The use of technologies such as Machine-to-Machine, RFID and Unified Communications alongside mobility is expected to gain prominence.
IDC believes business-to-customer applications will be increasingly used as a means to create differentiation. Telecoms companies STC, du, Zain and Ooredoo and banks Mashreq, SABB and QNB were used as examples of companies who have already invested in such applications.
7-8 inch tablets are expected to account for 55% of shipments in the region for 2014, with the Egyptian tablet market expected to record a 70% growth.
Telcos are predicted to continue developing and expand their ICT services portfolios by forging partnerships with vendors, while investment in data centre delivered services and managed services will continue to remain a focal point of operators' strategy.
Meanwhile Expo 2020 has been forecast as a cause for an $8 billion spend in infrastructure build, and IDC said that most of this investment will come in 2015.
IDC also predicted a worldwide IT spend of $2.14 trillion for 2014, with China making the largest growth of 12-14%.