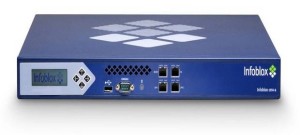 Network control firm Infoblox will showcase its latest innovations in DNS, DHCP, and IP Address Management (DDI), secure DNS and network automation technologies at GITEX Technology Week, 12th-16th October, 2014.
Infoblox will also demonstrate its cloud solutions that provide automated core network services for virtual machines in the data centre.
"Security of DNS infrastructure should be a top priority for organisations in the Middle East, but unfortunately statistics show that DNS servers and zone data are often neglected, which leave enterprises vulnerable to attacks," Cherif Sleiman, General Manager, Middle East, Infoblox, said. "These attacks go well beyond DNS DDoS. There are multitudes of different attack vectors, which most DNS servers cannot detect or protect against. The Advanced DNS Protection solution from Infoblox offers intelligent defense against the widest variety of attack types – not just volumetric attacks – to ensure secure, resilient, and trustworthy DNS services."
Domain Name System (DNS) Security is an area that Infoblox believes regional organisations will start paying greater attention to as they begin to understand the damaging consequences of inadequate security measures.
Another focus for Infoblox will be on the company's cloud solution.
Infoblox will be exhibiting at GITEX from stand number D1-27 at Dubai World Trade Centre (DWTC).