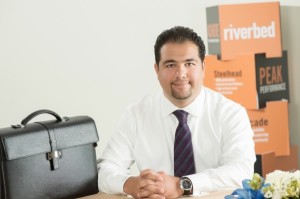 Riverbed will showcase its Application Performance Platform at GITEX Technology Week 2014.
This platform enables organisations to embrace "location-independent" computing, and is done by leveraging Riverbed's integrated solutions: SteelHead, SteelFusion, SteelApp, SteelCentral, and SteelStore which span across WAN optimisation, branch converged infrastructure, application delivery, performance management, and cloud-integrated storage.
Riverbed will also announce the expansion of its partner ecosystem in the region with new agreements.
This year, Riverbed also celebrates its expansion to new territories with Turkey and KSA as country models and three regional clusters – namely North Gulf, South Gulf, and Africa anchored by Egypt.
Its geographical footprint is also undergoing an evolution in order to align with its growth in the new markets and to better serve its customers.
"GITEX 2014 is one of the most important networking platforms for Riverbed to connect with its vendors, partners and customers," Taj ElKhayat, Managing Director, Middle East, Turkey, North, West, and Central Africa, Riverbed Technology, said. "We are aiming to increase our visibility and reinforce Riverbed as the leader in Application Performance Infrastructure, by delivering the most complete platform for location-independent computing and enabling organisations to use distance and location to gain a competitive advantage."