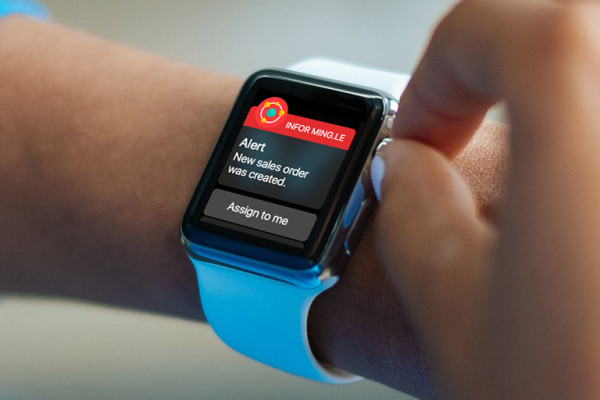 Infor has recently announced that Infor Ming.le and Infor Business Intelligence (BI) applications are now available for the Apple Watch.
According to the company, their next-generation social business platform is now available for Apple Watch users, providing users with wearable technology to help them follow the people, assets, and processes that are essential to business. By providing wearable access to Infor Ming.le, users may now directly interact, accept requests and provide approvals, to drive enterprise business processes without the use of a computer or tablet. The Infor BI application will provide mobile users with the ability to process actionable insights in real-time, allowing for easier and more accurate decision-making.
Duncan Angove, President, Infor, said, "Infor strives to change the way business is conducted, and to make software more accessible, intelligent, and purposeful in everyday situations. By integrating our beautiful, scalable, and efficient software into new and disruptive devices such as the Apple Watch, we are helping to empower the workforce by providing them with the tools needed to solve everyday problem."
"The market for wearable technologies is rapidly maturing amongst consumers, and the actual value is far more ubiquitous, with potential to seamlessly merge business with technology."
Infor Ming.le provides a comprehensive platform for enterprise collaboration, and is equipped with contextual analytics to manage business process improvements. By marrying communications and core business processes, users are able to draw upon information that exists within the enterprise resource planning (ERP) system and access searchable assets such as documents, plans, photos and videos from a centralised location. The task-driven alert system serves as a core component of the application, allowing employees to quickly send and receive approvals, which drastically increases response times. Infor Ming.le also allows users to gain a more holistic perspective of a project but offers the ability to drill down and manage specific social objects. By expanding access to Infor Ming.le to the Apple Watch, users that operate in the field or in the factory, are now better prepared to manage the activities that are essential to business.
Infor BI empowers users with industry-specific analytics, robust reporting capabilities and personalised dashboards to improve the decision-making process. This application provides a direct competitive advantage to users by turning siloed information from multiple sources into a synchronised tool for processing actionable insights. By gaining a real-time view of enterprise performance within a customised dashboard, users are able to act quickly and unlock the full business potential of the organisation.