DUBAI, UAE – December 10, 2020 – With the Middle East's manufacturing sector roiled by demographic shifts, changing customer profiles, and the proliferation of digital devices and apps, Infor will shine a light on how manufacturers in the region can embrace digital transformation and prosper amid the 4th Industrial Revolution.
At the Industry 4.0 Middle East Virtual Confex on December 15, Andrew Kinder, Infor's SVP for international strategy & sales support, will discuss the many opportunities open to Middle East manufacturers who are able to devise, implement, and execute the right digital transformation strategies.
To modernise the industrial sector, many countries in the Middle East are pursuing sector-specific development plans as part of their national transformation initiatives. The disruption caused by the COVID-19 pandemic, and the fact that 75% of the Middle East population is either Millennials or Gen Z, is accelerating the pace of change, according to a recent report from IDC.
While 76% of manufacturers in the Middle East, Turkey, and Africa region are already engaged in, or soon to start, a formal digital transformation program, it is important that they avoid common pitfalls and follow the correct steps when planning and implementing their DX plans to achieve the optimal results, according to IDC.
Infor is already working with major companies including manufacturers on their digital transformation plans in the Middle East. For example, Saudi Bugshan Barmaja Co. Ltd, a major diversified business group in Saudi Arabia, is digitally transforming its businesses in its home market and overseas with a new suite of Infor solutions. The company, which has 30 businesses spread across 10 countries and is involved in diverse sectors including fast-moving consumer goods (FMCG), automotive, healthcare, education, and real estate, is deploying a suite based around Infor LN to provide a single integrated digital platform. Saudi Bugshan aims to digitally transform and automate key business functions including human capital management, customer relationship management, finance, procurement, warehouse, and supply chain management.
Khaled Al Shami, Infor's director of solution consulting for the Middle East & Africa, said: "Manufacturers of all types in the Middle East can reap huge benefits from the 4th Industrial Revolution if they embrace change and digitally transform with the right strategy and the best digital solutions. Attendees at Industry 4.0 Middle East will have the opportunity to learn more about strategies to succeed in these fast-changing times, and how Infor solutions can automate, digitize, and future-proof their processes and operations."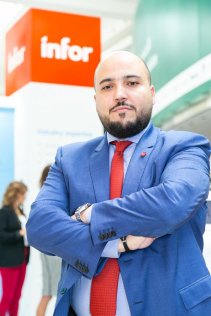 Infor is a Gold sponsor of the Industry 4.0 Virtual Confex, which will feature Government enablers, policy regulators, industry leaders, and technology innovators discussing projects and developments that are helping to drive the future of the Middle East economy.