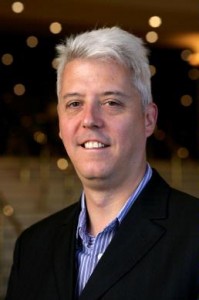 Infor is looking to speed itself into the future as it aims to become the fastest software provider in the world.
That was the statement from Tim Szabronski, regional VP at Infor MEA, at the morning session of today's 'Infor10 on the Road' event at the Mina A'Salam hotel in Dubai.
Speed was Szabronski's key theme and selling point of what he referred to as the 'new' Infor, as he linked to the company's announcement two weeks ago that it had become the official supplier and sponsor to Ferrari.
"At Infor we think that speed, not scale, is going to be the basis of competition in business for the next 10 to 20 years. Being able to move fast is going to be the most important thing," Szabronski said.
"Technology is the main thing that has changed the speed at which things happen. It has changed the rhythm of our lives, and has changed and continues to change the rhythm of our business. Speed and technology are infinitely tied, and at Infor we want to work on that platform a lot more," he added.
Szabronski said this speed Infor gives its customers gives them the edge over competitors no matter what industry they are in.
"Infor is serious about speed. We are agile and are able to change quickly. One of the goals in Infor today is that we aspire to become the fastest enterprise software provider in the world," he said.
"Not just the fastest at delivering these solutions to our customers, but we want to enable our customers to be able to compete on the basis of speed. We want to make our customers to become faster than their competitors," he added.
The rise of social media, Szabronski said, has led to customers expecting more from software designs, and Infor aims to offer an easy-to-use interface like what Facebook and Twitter boast, to minimise unnecessary deployment and training costs.
"Not only has technology changed how we run our business, it changes how we make our decisions and it makes our processing become faster. It changes the way we communicate with each other. We all now use mobile devices, social networks – the way we interact with each other has changed, and the speed of our interaction with each other has changed. That is the fundamental movement in our industry," he said.
"We want to make our applications easier to use, more consumer designed. Nobody needs to be trained to use an iPad, or Twitter, Facebook, or even Amazon. So why should companies have to be trained to use enterprise software? We want to change that. We need to build applications to make it easier for you to deploy quickly," he added.
In order to move this 'new' Infor forward, the management has significantly increased its research and development, Szabronski said.
"We've stepped up our investment in R&D. During the last 12 months we've hired an additional 400 engineers to the company in addition to the 1900 developers we already had," he said.
"Research and development is very important to us and we continue to invest in that. We think that companies compete on three different scales; price, service and innovation. Innovation is the most important one and we are focusing on this and being faster than our competitors," he added.