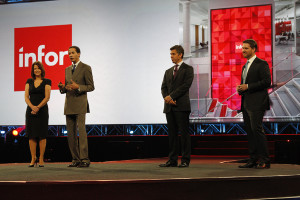 Infor is set to announce the availability of a new release of Infor M3, the next generation of its ERP application focused on the specific needs of key vertical industries, next Monday, marking the biggest release of its kind in the last decade. 
The version will see more than 500 improvements tailored to the respective needs of the distribution, equipment, fashion, chemicals, and food & beverage sectors.  In addition, advancements in the application will enable faster deployment of upgrades through accelerator packs, allowing major functional enhancements to be added without the need to install an entirely new version of the software.
"The latest generation of Infor M3 is an example of our commitment to innovation, deep vertical industry functionality and speed," said John Gledhill, Global Director, Infor M3 Product Management.
"The 500+ improvements in the latest release of Infor M3, combined with the new accelerator pack concept, means that regardless of whether an organisation makes and or distributes trousers, tortellini or tractors, they can benefit from functionality specific to their business – quickly."
The first Infor ERP application within the recently launched Infor 10 x suite, this release will provide access to the latest Infor innovations in social, mobile, analytics and cloud technologies.  It also features Infor Ming.le, Infor's new platform for social collaboration, business process improvement, and contextual analytics.  This allows users to capture corporate knowledge, contextualise business processes and follow news, workflows and content in real-time.
"Infor's product development strategy is focused on ensuring software is flexible, agile and easy to use," said Duncan Angove, President, Infor.  "Infor M3 is the first product to incorporate Infor 10x, our latest enterprise release that includes a reinvented HTML5 user experience and the new Infor Ming.le collaboration platform packaged within the ION integration framework.  We look forward to the latest version of Infor M3 exceeding expectations of what business software stands for."
Functional improvements span all areas and include alignment of payment terms to customer order lines, better allocation of discounts, clearer management of markups, markdowns and exclusions, improved backorder prevention, simplified processing of kits, and enhancements in item replacement capabilities in order entry.
The finance interface is allegedly easier to use and sees simplification of supplier invoices, improved reconciliation between logistics and general ledger, advanced payments in AP and AR, dynamic credit limits, increased analytical capabilities, and better VAT and taxation management.  Inventory management sees improved statistics on demand status, enhanced ability to update items, user defined lot numbering rules, and lots with multiple statuses.
In addition to sales, finance, warehouse management and procurement features, specific industries will benefit from the following:
Fashion businesses will see numerous enhancements to their e-commerce platform such as showroom ordering, style visibility, lookbook, season orders and greater configurability.
Food & beverage companies will see better tank tracing and lot blending, features for ultra-fresh food planning, enhanced warehouse mobility support, ageing and shelf-life management, and lot status and numbering improvements.
Distribution companies will see enhancements to delivery management through simplified movement of inventory between locations, pick corrections prior to pick list reports, new load building step for shipments, grouping of shipment packages to same distribution point, and greater control of output of pick lists.
Equipment companies will see enhanced lifecycle visibility, consistent parts pricing, new rental features, and a new warranty parts storage solution.