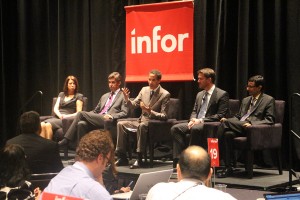 Infor's CEO, Charles Phillips, on Monday said that the vendor has no intention of owning its own data centres for cloud services, despite having a desire to offer more cloud-based products in the future.
Instead, Phillips said, Infor's strategy is to rely on cloud providers with their own data centres, such as IBM and Amazon Web Services (AWS).
"We don't want to own the data centres ourselves," Phillips said. "If we have to share a little bit of our margin, that's a better use of our capital."
The CEO was speaking at an executive panel session at the Inforum customer conference in Orlando, Florida.
Phillips also said that he saw plenty of advantages in working with IBM, which Infor has recently partnered with to offer speedy cloud deployment for customers of its equipment-centric M3 product.
"IBM clearly has a broad set of capabilities," Phillips said. "And they're helpful outside the U.S."
This was an advantage that IBM held over AWS, Phillips, said. However, he was quick to point out that Infor also works very closely with AWS for a number of its offerings. One example would be the new Sky Vault big data cloud service, which is run on AWS's still beta Redshift.
Indeed, the use of Redshift while it is still in beta form prompted questions about whether Infor could assure its Sky Vault customers of a good service, particularly when Amazon is known for stepping back when things go awry.
"We already have applications running on Amazon, and we've been doing this a long time with Amazon," Phillips rebutted. We're not too worried about that, and we'll take responsibility."
According to Ray Wang, Principal Analyst and CEO, Constellation Research, Infor's decision to stay away from owning data centres should stand it in good stead, even with its rapidly growing cloud customer base, which recently reached three million subscribers.
"It's a solid strategy. Infor's not at a size where they can compete with the cost of computing being delivered by Amazon or IBM," Wang told CNME.
"They are staying focused as an apps company, and it's better that clients see their money being invested in new functionality and relying on the lower cost centres being delivered by others."
But will Infor be looking for more cloud providers in the near future? Phillips simply said, "There are a lot of different platforms out there, but it's mostly IBM and Amazon for us."
When asked about new, cloud-based services, Phillips played it close to the chest, explaining that a lot is on the way but the vendor will leave any big announcements until a planned cloud roadshow this autumn.
"I don't want the cloud stuff to overshadow the great products that we've got here today," he said.